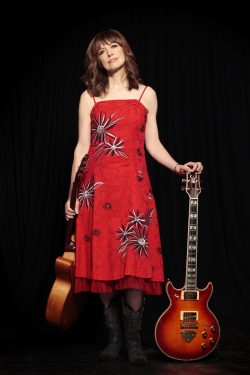 SINGER and songwriter Sarah McQuaid is setting out on a UK and Irish tour, and has teamed up with a filmmaker to record a true organ donor story ahead of the tour.
Her tour brings Sarah to  Honiton Beehive on Saturday 21st April, Bridgwater Arts Centre on Thurs­day 26th April  and to Cotleigh Brewery near Wiviliscombe on Saturday 26th May.
Based in Cornwall, Sarah has been working with award-winning filmmaker Brett Harvey to make a music video/short film based on the poignant true story of Bill Conner, a father who lost his daughter and cycled 1,400 miles to hear her heart beating again in the body of its recipient.
Underpinned by Sarah's song Slow Decay, from her recently-released fifth solo album, If We Dig Any Deeper It Could Get Dangerous, the video was released at the end of March with Conner's blessings.
In May 2017, five months after Conner's daughter Abbey died at the age of 20, he decided to honour her short life by cycling from his hometown of Madison, Wisconsin, to Fort Lauderdale, Florida, to visit Broward Health Medical Center, the hospital that had recovered Abbey's organs for donation. After riding 1,400 miles he met 21-year-old Loumonth Jack Jr. at  Baton Rouge, Louisiana. Jack had been given ten days to live before he was saved by Abbey's heart.
After sharing a minute-long hug, Jack pulled out a stethoscope so that Conner could hear his daughter's heartbeat for the first time since she died.
The family made a recording of Jack's heart for Conner to listen to as he continued his journey to spread awareness about the importance of organ donation, promoting the efforts of www.donatelife.net
Sarah was born in Spain (to a Spanish father and an American mother) and raised in Chicago. If We Dig Any Deeper It Could Get Dangerous was released in February.
"I've been living in Cornwall for more than ten years now," says Sarah, "and it's been a real joy and privilege to be able to make my home in a place that's so beautiful and that's also such a hotbed of creativity. I can honestly say that I wouldn't have the music career I have now if it hadn't been for the people I've met and worked with since moving to Cornwall."