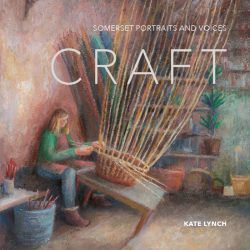 SOMERSET artist and writer Kate Lynch has a new book and accompanying exhibition reflecting two years of drawing and painting 30 traditional craftspeople and collecting their stories.
These Somerset makers include the last sieve and riddlemaker in the country, a papermaker working in a mill powered by a waterwheel, hedgelayers, blacksmiths, brushmaker, dry stone waller, a rare company weaving horsehair, and more…

"It's been a wonderful journey," says Kate, whose previous books have included paintings and voices from the apple and cider orchards, sheep from field to knitwear, bee-keeping and the mysterious world of eels on the Somerset Levels.
The new book, Craft – Somerset Portraits and Voices has all the artwork and words from the craftspeople.  It is available in hard-back, full colour. To order a signed copy please visit www.katelynch.co.uk
Meanwhile, there is an exhibition at the Rural Life Museum at Glastonbury of all the 40 paintings and charcoal drawings from 26th March to 5th June. More details about the opening event and programme of demonstrations and workshops will follow soon.
Pictured is the book cover and a painting and drawing from the book.