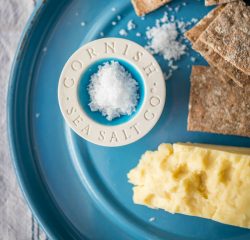 ONE of the country's finest traditional cheesemakers, Devon-based Quicke's have announced a collaboration with Cornish Sea Salt to give an added regional taste to their award-winning cheeses.
The news follows years of testing, tweaking and maturation at Home Farm, Newton St Cyres near Exeter. A ground-breaking move in the world of cheese, the use of sea salt adds a new complexity of flavour to the cheesemaker's expertly crafted clothbound cheddar.
This Devon-Cornwall collaboration is the latest enhancement in Quicke's long history of cheesemaking, as the whole team, from the fields to the dairy, have continued to craft outstanding cheddar from just four ingredients. Careful herd selection and planned grazing have produced exceptional quality milk to combine with Quicke's natural rennet and heritage starters and the addition of Cornish Sea Salt will create a unique, bright flavour profile for the cheese.
Mary Quicke, whose family have farmed at Newton St Cyres for more than 400 years, says: "We are really excited by the move to Cornish Sea Salt in our cheese and are delighted to be the first to do this after so many years in the making. Cornish Sea Salt has a unique mineral-rich flavour that initially hits the palate and then withdraws to enhance other ingredients, which gives us an extra complexity of flavour.
"Harvested out in the ocean, it's concentrated nature without the impurities you find in pan-dried sea salt. As an unexpected benefit, the sea salt is also more demanding to mix into the fresh curd than table salt, so this stage has required even more love and care from the team. We are noticing a greater roundness in the flavour that we are putting down to that extra work."
A coming together of heritage, provenance and innovation, the first wedges of the Quicke's and Cornish Sea Salt collaboration will be on cheese counters this month (August). Quicke's have also teamed up with Ben Quinn from Woodfired Canteen in Cornwall, to create recipes designed to showcase the exciting flavour of this great cheese.