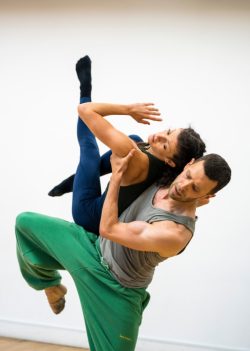 DEBORAH Warner continues her exciting inaugural season as artistic director of Bath Theatre Royal's Ustinov Studio with a double bill of two Greek myths reinvented for our times, from Friday 12th August to Tuesday 23rd. The works are Benjamin Britten's Phaedra featuring the mezzo-soprano Christine Rice, and the world premiere of choreographer Kim Brandstrup's Minotaur.
Following the success of her 2020 production of the work at the Royal Opera House, director Deborah Warner and Olivier Award nominee Christine Rice re-imagine Britten's intense and evocative cantata Phaedra in a version specially developed for the intimate space of the Ustinov Studio, with piano accompaniment by Richard Hetherington.
On the day of her wedding to Theseus, Phaedra catches sight of his young son Hippolytus. She falls instantly in love. Consumed by lust and a longing for a love she knows cannot be requited, death will be her only escape. The scalding power of Britten's score pushes Phaedra towards her doom in a remarkable and thrilling drama. Written in 1975, Benjamin Britten's cantata Phaedra was his last vocal work.
Christine Rice is a regular performer at the major European opera houses including the Royal Opera House, Glyndebourne, English National Opera, Salzburg Festival, Deutsche Oper Berlin, Madrid, Munich, Zurich and The Met. British conductor, répétiteur and pianist Richard Hetherington has been Head of Music of The Royal Opera since 2017.
The second part of this thrilling double-bill is the  newly commissioned dance piece, Minotaur, choreographed by Kim Brandstrup, who is renowned for his work over four decades with The Royal Ballet, New York City Ballet, English National Ballet and Rambert. Minotaur is performed by Laurel Dalley Smith, Jonathan Goddard and Tommy Franzen.
Phaedra's sister Ariadne is the inspiration for Minotaur. Often depicted as a creature of great masculine power and invincible strength, the Minotaur is also a creature trapped, isolated and abandoned. The Greek hero's journey into the labyrinth is a confrontation with this ambiguous world of masculinity. Ariadne stands by the entrance to the maze, she wheels out the thread that will secure – hopefully – a safe return.
Originally from Bath, Laurel Dalley Smith is currently a member of The Martha Graham Dance Company in New York. Laurel is also a guest artist with UK and Los Angeles-based dance company, Yorke Dance Project. She has worked on several projects with Kim Brandstrup previously in the UK and America.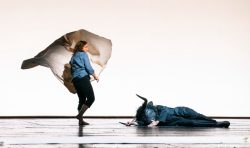 Jonathan Goddard is an award-winning dancer, choreographer and movement director, whose numerous credits include performances for the Royal Opera House, Royal Ballet, Rambert, Scottish Dance Theatre and Richard Alston Dance Company. Jonathan was the first contemporary dancer to be nominated in the Dance category of the South Bank Show/Times Breakthrough Award in 2007. He was the first contemporary dancer to win the Critics' Circle Award for Best Male Dancer.
Tommy Franzen, from Sweden, has performance credits ranging from Mamma Mia The Movie to the Handover Ceremonies at 2008 Bejing Olympics. In 2010, he was runner-up in BBC One's So You Think You Can Dance, before creating choreography for the show. He has worked with the Royal Opera House, Sadler's Wells and the Russell Maliphant Dance Company, and has been nominated for multiple awards for his work in dance and musical.
Photographs by Tristram Kenton