MESSUMS Wiltshire, based in the 700 year old tithe barn and adjoining buildings at Tisbury, reopens on 4th July with a series of exhibitions celebrating Elisabeth Frink and including a recreation of her Dorset studio
The focus of the exhibitions in the barn and the long gallery is The Artist's Studio, including work by sculptor Bridget McCrum and photographs by Ian Chapman's images of some plaster sculptures rediscovered after Frink's death.
A Place Apart – Elisabeth Frink's Studio will run from 4th July to 18th October. In 2016 Messums Wiltshire acquired the blue door studio Frink built in the grounds of her home at Woolland on Bulbarrow. Working with the Estate and Frink's archivist Annette Ratuszniak, the Messums team has reconstructed the studio and compiled a range of original artefacts to recreate her working environment.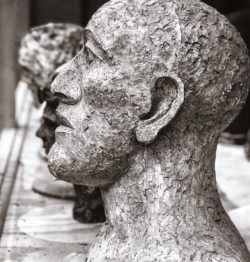 The installation, which in part is a celebration of one of this country's greatest female artists, also considers the active creative spaces that art, artists and their working process, animate. Set inside the oldest and largest thatched building in the country, the installation reflects on the making process and the role of creative environments.
Bridget McCrum's exhibition, The Conference of the Birds, runs from 4th July to 30th August. As a child in the Second World War, McCrum was evacuated from London to the west country. There she found horses, landscape, art, and, above all, a friendship with a young Elisabeth Frink.
This exhibition, which is shown against the backdrop of Frink's studio in the barn, charts McCrum's recent work and looks back at some of her earlier pieces. It considers life through a shifting between shapes and images and looks at how McCrum (like Frink) found ways to free herself from the restraints of figurative precision.
A Place Apart – White Out of Dark, running from 4th July to 2nd August, is a series of images by Ian Chapman showing how Frink's rediscovered plaster sculptures were saved. It documents the process of uncovering more than 80 original plasters that had been removed from her studio and were discovered in storage between 2017 – 2019. Some were damaged, some mere fragments, but the sculptures bear the marks of Frink's hands and express humanitarian feelings and concerns. Their poignancy, strength, mastery and beauty are revealed through the images that Chapman made over those two years.
Pictured: Elisabeth Frink's studio, recreated at the Messums Wiltshire tithe barn; one of Bridget McCrum's birds; plasters of some of Frink's famous series of heads, photographed by Ian Chapman.