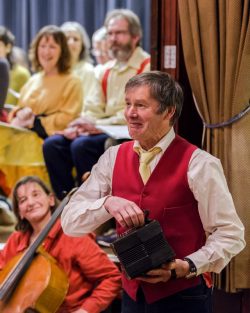 CHRISTMAS in Dorset wouldn't be complete without the festive celebration of the traditional West Gallery songs and tunes by the Ridgeway Singers and Band. This year's series continues on  on Sunday 15th December at 4pm atSt Christopher's Church, Winfrith Newburgh (with Artsreach),  and at the Dorford Centre, Dorchester on Friday 20th at 7.30pm.
With their roots in the South Dorset Ridgeway and inspired by the rich sources of locally collected folk songs and West Gallery carols, the Ridgeway Singers and Band, led by musician, historian and storyteller Tim Laycock and musician and director Phil Humphries, have tuned their fiddles and voices to perform a joyous celebration of Christmas past and present, with two dates with Artsreach and concerts at Weymouth and Dorchester.
Traditionally sung by village choirs in English country churches from the 18th century onwards, West Gallery music's demise was brought about by the innovations of the organ and harmonium.
The musicians who played the fiddle, the cello and the serpent might have been no more than a footnote in history, if it hadn't been for this style of popular music being recorded by writers, notably Thomas Hardy. This was the traditional music that Hardy knew as a boy, which he evoked so beautifully in poetry and novels, including Under The Greenwood Tree.
This seasonal programme will include works from Puddletown and Bridport manuscripts, together with newly composed carols in the West Gallery tradition. Interspersed with sparkling instrumental pieces and midwinter stories, plus a few Ridgeway favourites.