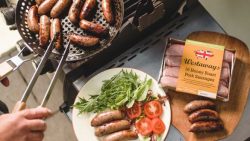 WEST Country sausage-maker Westaways has become the UK's first meat producer to use eco-friendly packaging that can be put on your compost heap rather than adding to the nation's waste problem.
"If you walk down a meat or dairy aisle in a supermarket you will see that just about every product is wrapped in plastic," says Devon sausage-maker Charles Baughan. "As a company that cares about the environment, we asked ourselves why that should be? Products like sausages do not have to be entombed in plastic – there are alternatives and from now on our range will be sold in eco-friendly cartons and wrappings."
For 18 months Westaways sausages have been packed in trays made with Forestry Stewardship Certified cardboard which is recyclable or compostable and already more than a million packs have been sold. But it is a revolutionary cling-film style wrapping which has allowed the Newton Abbott-based Westaways to make the 100 per cent eco-friendly claim.
I have seen the damage plastics can do and so am passionate about doing something to make a difference," says Mr Baughan, explaining that the packaging is a bioplastic, a "wonder material" that will change the industry. "In a compost heap it will fully disintegrate within six months and fully biodegrade within a further six months without leaving any microplastic traces – I know that because I've been trialling it in my own garden."