AS a film location, Lyme Regis is best known for the iconic scene in The French Lieutenant's Woman, with a wind-swept and haunted Meryl Streep looking out to sea on The Cobb. But the town has had starring roles in two other films, 70 years apart.
A few weeks ago, the national press was full of stories about Kate Winslet, Saoirse Ronan and Fiona Shaw in Lyme Regis on location, filming Ammonite, a new film about the town's famous fossil hunter Mary Anning.
Lyme's arts venue, the Marine Theatre, played an important role, providing wardrobe and other support services. The theatre, where Hollywood star James Cagney performed during the war, was hired by the Fossil Films company for three weeks.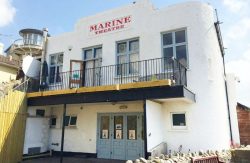 Situated a couple of hundred metres from two of the film's locations on Broad Street and Combe Street, the theatre had a number of uses. The wardrobe and costumes were housed in the auditorium, alongside a number of temporary dressing rooms in which some of the cast were fitted with authentic 19th century costumes. The theatre's permanent dressing rooms were used to prepare wigs and makeup.
It was also used as a makeshift canteen, where members of the cast and crew ate at lunchtimes, and as a place for some of the cast to shelter from the weather and paparazzi in between scenes.
Meryl Streep and Jeremy Irons filmed at Lyme Regis for the 1981 Karel Reisz-directed adaptation of John Fowles' 1969 post-modern novel, The French Lieutenant's Woman.
Further back, in 1949 the town provided several locations for the black and white comedy drama All Over the Town in which two crusading reporters revive a failing newspaper and expose local corruption.
The film is being screened free of charge at the Marine Theatre in the town as part of the arts venue's 125th anniversary celebrations. Written by the Devon-based novelist and dramatist RF Delderfield from Sidmouth, it starred Norman Wooland and Sarah Churchill.
All Over the Town is being screened on Sunday 16th June at 7.30pm. It is free, but you need to get tickets – visit www.marinetheatre.com
Photograph of period props at the Marine Theatre courtesy of Looking For Light.