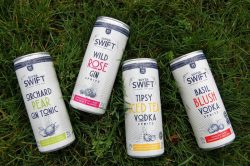 A BATH-based start-up business, Silver Swift, has been chosen as one of 14 entrepreneurs for this year's Seed Fund Academy.
Having impressed the judges with its range of spirited spritzers, Silver Swift will take part in an intensive summer programme run by top mentors from across the industry, designed to transform big ideas into big business.
Completely natural and free from artificial additives, the collection of spritzers has been created using premium spirits sourced from Brittain's distillery in Yorkshire and Two Birds distillery in Market Harborough. There are four blends – Wild Rose Gin, Basil Blush Vodka, Tipsy Iced Tea Vodka and Orchard Pear Gin Tonic – all products containing 5% alcohol and under 99 calories.
The mentors include Renée Elliott, founder of Planet Organic, the Guild of Fine Food's John Farrand, Camilla Barnard from Rude Health and Emma Murphy of Sourced Market. Run in partnership with Great Taste, the world's most respected food awards, the Academy covers branding, funding, finance, PR, social media, law and more, designed to help new products find space on the crowded shelves.
The Academy winner will be announced at the Great Taste Golden Forks dinner in London in September. The award is a further year of business support and brand development, estimated to be worth over £100,000.