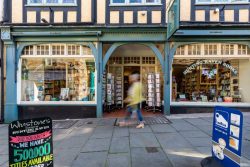 FROME, one of the most vibrant towns in our region, is predictably taking some exciting steps to help businesses and the community during the Covid-19 crisis.
We heard from Tina at Hunting Raven Bookshop in Frome's picturesque Cheap Street about her shop's recent success and about the new website with information on shopping options.
Hunting Raven is part of the small Winstone's independent bookshop group, with Winstone's in Sherborne and Sidmouth.
Tina says: "In the week all the restrictive actions kicked off we had a bright spark of happy news when we found out that we had been named Independent Bookshop of the Year for the South West as part of the 2020 British Book Awards (aka the Nibbies). We'll go on to compete for the overall national title in June."
The Frome and Sidmouth shops are still fulfilling book orders thanks to staff at Sherborne, who are managing all the orders.
Things have been changing on a near daily basis, says Tina, "for us as well as other small independent retailers in Frome who are dependent on supply chains."
To help this situation, Frome businesses have teamed together on a website called www.shopfrome.co.uk where they can all keep their statuses updated as and when things change.
"And it's a good way for people in Frome and beyond to discover their shopping options throughout the crisis," says Tina.
For more information on the three Winstone's bookshops, www.winstonebooks.co.uk and for the latest news from Frome, www.shopfrome.co.uk
Pictured: Hunting Raven Books in Cheap Street, Frome.