THIS is Afternoon Tea Week – a chance to celebrate a great British institution. Other nations have coffee culture or tea ceremonies, but we have a unique cultural culinary tradition of tea and cake, so between now and 16th August you should make the most of it!
If you are lucky enough to live near a good tea shop or a hotel which does a proper cream tea, go for it – and you may be able to make use of the government's Eat Out to Help Out scheme.
If you haven't got a restaurant that does afternoon tea nearby you can still do your own afternoon tea with friends or family (in a bubble and socially distanced, of course) in your own house or garden.
Afternoon tea, immortalised in the opening scene of Oscar Wilde's The Importance of Being Earnest, is a combination of savoury and sweet dishes, beautifully prepared and presented, in fine china, on a linen tablecloth, with a pot of tea – and conversation. It is, essentially, a social and sociable event.
At its basic level, all you need is tea (it should be leaf tea, but a good tea-bag will do the job), ideally in a tea-pot, served in proper cups and saucers, with cucumber or egg sandwiches, a slice of home-made cake, and, of course, particularly in the West Country, scones with jam and cream.
We leave it up to you whether you put the jam on the cream on the scone base or the cream on the jam or even the jam on the cream and then more cream and then the scone top  – voila! the biggest, most delicious scone mouthful imaginable!*
So – why afternoon tea? If you saw the recent adaptation of Julian Fellowes' Belgravia you may have noticed the scathing attitude of Harriet Walter's autocratic character to this new invention (her ladyship does take a cup of tea, out of well-bred politeness). Whatever you think of his stories, the Downton Abbey creator is good at period detail.
Tea had been drunk in aristocratic circles in Britain since the 17th century. Its early popularity with men was linked to a reputation as a medicinal drink that could cure a variety of ailments –  "headaches, colds, ophthalmia, catarrh, asthma, sluggishness of the stomach, and intestinal troubles," according to the 17th century Dutch physician, Nicolas Dirx.
The tea industry had a huge role in the development of British power in Asia, largely through the agency of the British East India Company. As imports increased so did the popularity of the drink throughout the 18th and early 19th centuries. Greater availability of sugar and the addition of milk (not used in China) all added to the demand. By the 19th century, tea was no longer exclusive, but was drunk by everyone from poor labourers to great duchesses.
The invention of afternoon tea is attributed to Anna, the 7th Duchess of Bedford, who is said to have complained of "having that sinking feeling" during the late afternoon. At that time it was the custom for wealthy people to have two main meals a day, breakfast and dinner, which would be served around 8pm. The solution for the Duchess was a pot a tea and a light snack in her private rooms during the afternoon. She began to invite friends to join her, and soon it became the fashion to take tea, with exquisite little sandwiches, in the afternoon.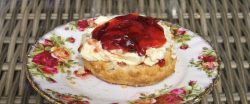 We have loved afternoon tea – particularly Sunday tea – all our lives. With some cake and baking-loving friends, we have a Sunday tea society. When we get together everyone contributes a home-made cake or savoury, anything from vegan quiche to death-by-chocolate indulgence. But always there are Eccles cakes, originally made by our late and much-missed unofficial president, and scones, made by her similarly talented daughter, who now also makes the Eccles cakes.
Weather permitting, we plan to have our Afternoon Tea Week celebration at her beach hut on the Dorset coast, where sand will doubtless add its own special taste to the proceedings!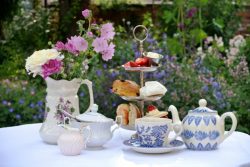 Now in its tenth year, Afternoon Tea Week is a chance to enjoy a great British tradition with friends, and help our local tea-rooms and restaurants. Keith Newton, managing director of AfternoonTea.co.uk says: "After months of lockdown, people are now starting to go out again. Afternoon Tea Week, combined with the Eat Out to Help Out Scheme, is the perfect excuse for people to treat themselves to a traditional afternoon tea and give businesses a well-needed boost during this difficult period."
* In case the great cream and jam debate has passed you, the Cornish method is to spread jam on each half of the scone then top with cream, while in Devonshire the rule is to put the jam on top of the clotted cream base.
Pictured: The  Duchess takes tea; a classic tea party, Getty Images; scones with jam and cream, Devon and Cornwall-style; delicate cucumber sandwiches.