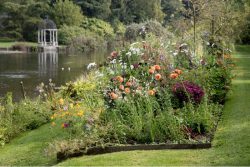 THE coronavirus pandemic arrived at a bad time for everyone and every business, including Springhead, the environmental education and cultural centre at Fontmell Magna.
Springhead has been closed like so many businesses, unfortunately, says director Edward Parker, coinciding "with our busiest and most important time of the year – a time when there are usually school groups staying during the weekdays and weddings and other functions being hosted almost every weekend."
All events have been cancelled until the end of August which is very disappointing for those who were looking forward to spending time in the historic building and its famous gardens, but the closure puts the charity in a difficult financial situation.
Fortunately, says Edward Parker, Springhead had a successful first four months of 2020 and was in good shape at the end of April. Most of the staff have been furloughed, expenditure has been reduced dramatically, and the charity has applied for help via government grants.
But 2020 will be "a very hard year," he says. "We are still planning for the future, and by looking after our buildings and gardens (the ornamental gardens look spectacular) we will be ready to re-open almost instantaneously when permitted, later in the year or early 2021."
As well as looking after the buildings and grounds at Springhead, work continues on the productive gardens project to restore and improve the kitchen gardens, planning for the restoration of the orchards, and looking into options for community growing areas.
Looking back, the director says, 2019 was a successful year: "With the help of our volunteers, supporters and funders, a great many people were able to enjoy and learn from spending time in our beautiful gardens and grounds.
"During the year Springhead played host to 18 school and youth groups comprising approximately 520 children who mostly came on residential visits. Many of these children experienced things for the first time in their lives: for some, it was the first time they had stayed away from home overnight, built dens or had a campfire, and many had never been on a long walk in the country before or drunk from a spring."
Other events included the Creative and Sustainable Living Fair in May and the Garden of Delights makers event in December, plus 12 weekend weddings, which brought in much-needed income.
For more information on the Springhead Trust, or to make a donation or become a Friend of Springhead please go to https://www.springheadtrust.org.uk/support-us/