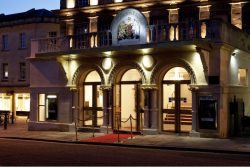 TWO of Theatre Royal Bath's most popular visitors, actor David Suchet and comedian and panto star Jon Monie, are supporting the theatre's fundraising campaign, during the Coronavirus closure.
David Suchet starred in the acclaimed TRB production of Arthur Miller's The Price, which transferred to the West End, as well as delighting millions of television viewers as Poirot. Jon Monie has more than 1,000 pantomime performances to his name – many with the region's beloved panto dame, the late Chris Harris.
They are leading a campaign asking theatregoers and supporters of Theatre Royal Bath to consider donating over the coming months, as the theatre's income from ticket sales, bar takings and merchandise has been brought to a halt.
The pair have recorded video messages showing their love and support for the country's prettiest theatre. They describe the Theatre Royal as "one of this country's very special theatres" and "a very special place" with many memories for performers and audiences alike, and stress the need for donations to support the theatre through the coming months, while all three venues remain temporarily closed.
Kate Cross director of the award-winning Egg theatre has also spoken to egg audiences, highlighting the creative work for families which is currently on hold.
TRB director Danny Moar says: "We're thrilled to have David and Jon's support as we launch this fundraising campaign, and have received many supportive messages from producers, performers and our very generous and loyal audience members.
"These are unprecedented times, and even as the government and the country look to beginning the easing of lockdown restrictions, it is very clear that the entertainment industry, and theatres especially, will be at the end of the queue. This is why we are asking for support now.
"Many of our audience members have very generously donated some or all of their refunds in recent weeks, but this is a small amount compared to what the theatre would have brought in during a busy and popular summer season, especially for a theatre with no regular public subsidy. I am continually liaising with producers, visiting companies, actors and agents to ensure we have the strongest possible season in place for the moment we are able to reopen."
David Suchet says: "Donations will ensure that when the Theatre Royal Bath doors can reopen, and they most certainly will. Theatre Royal Bath will continue to stand proudly as a part of your community, locally and nationally, and retains its place as the country's leading regional theatre."
Donations can be made through the Theatre Royal Bath's website at www.theatreroyal.org.uk/donate
Links to video messages  –
DAVID SUCHET: https://youtu.be/rBPZ2nKMDN0
JON MONIE: https://youtu.be/nt-t01o0tn0