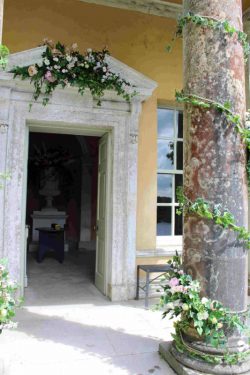 THE rites of spring have come to Stourhead as the National Trust revives the Romans' annual Floralia tradition.
Floralia was a festival in honour of Flora, the goddess of flowers, whose memory is celebrated in a charming temple that looks out across the lake at the centre of this world famous 18th century landscape garden in south west Wiltshire.
The Temple of Flora, built in 1744, was the first of the three temples at Stourhead and marks the beginning of the landscape's transformation.
Visitors to Stourhead are often curious as to the symbolism behind the mythical figures they encounter on a walk around the lake. The Stourhead team has revived Floralia as a way to share Flora's significance at a time when the garden is bursting into bloom.
"A walk around the lake feels like walking through a carnival, there's just colour everywhere you look," says the Trust's visitor experience manager Camilla Forest: "As you wander the paths, rhododendron and azalea blossoms seem to ruffle and frill wherever the eye might land, jubilant in tones of buttery yellows, purples and every imaginable shade of pink.
"We're celebrating Floralia as a way to highlight some of the amazing plants in bloom at this time of year, while also sharing the story of this lesser-known goddess who (according to the Romans) is so important to gardens everywhere."
Stourhead staff have worked with a floristry volunteer, Sarah Pettigrew, to create floral installations in the temples, house, shop and restaurant. Sarah will also host spring wreath workshops so visitors can take a piece of Floralia home for themselves.
Look out for slates around the paths with more information about Floralia. The garden team, led by head gardener Alan Power is offering botanical tours every Tuesday and Thursday at 2pm until the end of June.
Pictured: The outside of the Temple of Flora, dressed to celebrate Floralia © National Trust/Charlotte Toop