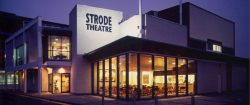 AUDITIONS will be held in mid-July for Strode Theatre's new community pantomime over the New Year, and at the end of the month for a Beckett and Pinter double-bill!
A creative team has been chosen for the pantomime, and auditions for the core cast, chorus and ensemble singers and dancers from local community, schools and colleges through auditions will starting on 13th and 14th July.
The pantomime at the Street theatre will run from 23rd December 2022 to 1st January 2023, and will be directed by the locally-based stand-up comic and performing arts lecturer Gavin Fowler. He will be assisted by Wells-based actor/theatre-maker George Oliver and Street-based early career director Isobel Todd, who is currently completing her Masters in Theatre Direction, tutored by renowned stage-director Katie Mitchell.
The choreographer will be Bridgwater-based actor-choreographer Dean Brammall, who was movement coordinator for Peaky Blinders and there will be an original score by composer, arranger and performer E H Davies, who has been active in the southwest for more than 20 years.
Strode Theatre's contemporary take on the classic Cinderella fairy tale has been written by Strode College alumni Emily Keen and Scarlet Shaffer, who said: "I dared to explore a crazy notion and my ability to write books and plays became a reality".
Emily added "The opportunity the college and theatre have given us to co-write the pantomime is a dream come true."
Emma Craigie and Amy Jones, who teach the course at Strode College said in a statement: "Congratulations to Emily Keen and Scarlet Shaffer – two brilliant graduates from Strode College's English with Creative Writing Foundation Degree – who have gone straight on to write this wonderful pantomime!"
The shows will be produced by theatre manager Farès K Moussa, who said: "Strode Theatre and Strode College has a rich heritage in nurturing and promoting talent in Somerset through community and professional shows, with many now working on professional stages and film-sets.
"As we approach 60 years of being a hub of arts and culture throughout mid-Somerset and beyond, we are very excited to be able to offer new opportunities – even more so than ever before – which are open to everyone to perform on our stage and work alongside industry professionals and coaches.
"The hunt for Cinderella and her supporting cast and roles for other shows is now on! Whatever your experience, and – whether you want to do it for love or you are developing a career in acting, dancing or singing – I would urge you to come forward. Auditions are free, fun and open to everyone!"
The first stage auditions which will take place on the Strode Theatre stage and studios, are for the main cast; and anyone – whatever their experience – are encouraged to sign-up and audition.
Director of Cinderella, Gavin Fowler, said: "It is such a pleasure to be able to work on this production as we try to develop more opportunity and inclusivity in the area. The new script brings a fresh angle on the classic Cinderella story and I'm so excited to see it start coming to life on the stage."
Also in-production at Strode Theatre is a double-bill of Harold Pinter's A Kind of Alaska and Samuel Beckett's Krapp's Last Tape. They will be directed by local actor/directors Susie Tookey and Neil Howiantz, who said: "We really like the new ethos of openness in show-production which Strode Theatre is developing, which we hope can bring more diversity to the programme, but also help to support the theatre in box office revenues."
The Pinter and Becket double bill is part of a new move to bring a broader range of classic, new and "scratch" (ideas and works in development) theatre to the area in ways which involve community.
These announcements come amid ongoing financial challenges which the theatre has been facing for over ten years, exacerbated by the pandemic. Farès said: "As we face a new financial reality with a difficult outlook over the coming years, it has become important that we make better use of our assets, and the pantomime season is one of those premium assets, which for many years now we have been letting out to third parties.
"For the majority of theatres in the UK, the pantomime is one of the most important sources of annual box office revenue and we intend to do the same as part of making the theatre financially more viable.
"It is also important that we focus our attentions on making Strode Theatre a hub for even more communities and individuals. It's amazing how far and wide people come to support Strode Theatre – we want to build on this and ensure that we are reaching as many communities as we can, and live-up to the theatre's original moniker as 'the finest small theatre in the west'!
"We are developing relationships with local businesses and private benefactors to help raise money. I also hope that the newly formed Somerset unitary authority will herald fairer arts and culture funding in Somerset. I am hopeful for the future, but there is a lot of hard work to do in the meanwhile."
Auditions for the pantomime take place on Wednesday 13th and Thursday 14th July from 6pm at Strode Theatre; auditions for the Becket-Pinter double bill will take place at the end of July. Booking a place in the auditions in advance is essential. Full details for anyone interested in auditions can be found at: https://www.strodetheatre.org.uk/news/cinderella-pantomime-audition-call/