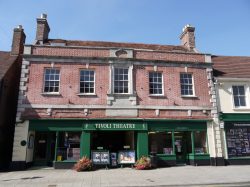 THE third play in the Tivoli summer rep trilogy in Wimborne is Agatha Christie's Love from a Stranger, on stage at the Tivoli from Thursday 8th to Saturday 10th August.
This edge-of-the-seat thriller has a shocking twist. A whirlwind romance with a handsome and charming stranger sweeps Cecily Harrington off her feet and she recklessly abandons her old life to settle in a remote country cottage.
However, her newfound love is not all what it seems …
Dramatic Productions' artistic director Tracy Murrey has lined up a cast featuring some of Dorset's finest acting talent. Look out for the familiar faces of the popular Julia Savill, Russell Biles, Celia Muir and Mark Freestone.
"We're all delighted to be returning to the beautiful Tivoli Theatre for this extended summer season," says Tracy.
For more information, telephone 01202 885566 or visit the website, www.wimbornetivoli.co.uk
See A Bunch of Amateurs review – http://www.theftr.co.uk/a-bunch-of-amate…-wimborne-tivoli/
See Rising Damp review  – http://www.theftr.co.uk/rising-damp-wimborne-rep-at-the-tivoli/