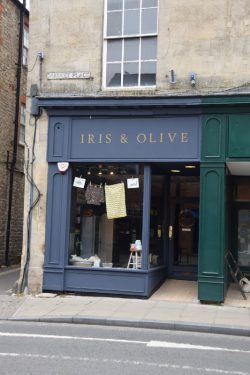 IT is brave to open a new business in the middle of the pandemic – but Carlee Wakefield hopes that it is the right time for her new Warminster town centre shop, Iris and Olive.
She is focusing on products that are sustainable, many by makers and artisans from the south and west, plus selected books, including Deepest Wiltshire, which raises money for three Wiltshire charities*.
The attractive little shop, in former Specsavers premises, is near the town's Athenaeum Centre and popular Cafe Journal.
Carlee, who was in the army for some years, plans to offer a range of workshops and classes upstairs, and to serve coffee and tea, when the Covid-19 crisis is over, and social distancing rules are relaxed.
The range of goods includes handmade chocolate, baby and children's clothes designed to be handed down not discarded after one child, hand-made soaps, and specially selected teas and hand-prepared drinking chocolate. She describes her ethos as "thoughtful gifting and community. We stock brands that are either made in the UK, are handmade, directly benefit the people who make the products or are purchased from responsible suppliers."
One of the products is Arthouse Unlimited, handmade chocolates with beautiful wrappers, created by a collective of artists living with complex epilepsy and learning disabilities and difficulties, all of whom require varying levels of support. The artists work alongside instructors to create artworks which are developed into designer products.
Looking ahead to a time after lockdown, Carlee is hoping to run events in the shop, including talks by local writers. Planned workshops include beeswax wrap making, flower arrangements, screen printing, calligraphy workshops, etc.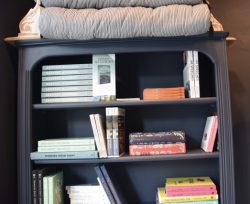 Carlee, who comes originally from Australia, was in the Adjutants General Corps and finished her time attached to 5 Rifles. After an injury, she left the army, but continues to work as a civil servant, at the Warminster Garrison. Her partner Matt is in the same Corps, currently serving at Colerne where he is regimental administration officer. Her mother, who lives in Brisbane, is helping with the shop – she is making silk scrunchies, a useful accessory in lockdown when nobody can get their hair cut!
• Deepest Wiltshire is raising funds for Wiltshire Community Foundation, Wiltshire Air Ambulance and SSAFA Wiltshire. The authors, Fanny Charles and Gay Pirrie-Weir were delighted to be able to make an initial donation of £10,000 from the proceeds to the Community Foundation's coronavirus emergency fund, when it was launched in March.
Pictured: Deepest Wiltshire is at the top of the bookshelves; cute little duck body brushes are made by a blind maker in Sweden; the exterior of the shop in Warminster High Street.