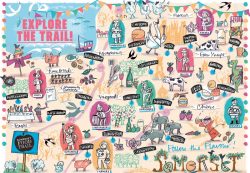 THE Somerset Food Trail, a ten-day festival celebrating the county's farms, landscapes, people and places, and the best of locally produced, delicious and sustainable food, runs to Sunday 24th July.
It is described as a "farm-to-fork showcase that puts the spotlight on Somerset's smaller-scale, more regenerative farmers and artisan producers, and the stores, cafes, pubs and restaurants that support them."
​
Based on the open studios model of arts trails, the Somerset Food Trail sees farmers, growers and food producers opening their doors to the public – full details are in the free guide, which has a colour image by the Somerset artist Kate Lynch, who is well-known for her paintings of traditional country life, crafts and traditions.
The trail has the backing of probably the world's best-known dairy farmer, Glastonbury Festival founder Michael Eavis, who says: "Somerset is an amazing, beautiful county, producing food that's recognised around the world. I'm delighted to support the Somerset Food Trail as a way of encouraging people to 'buy local', find out more about how food is made, and learn what farmers are doing to protect and care for the environment."
Around 190 venues and businesses are taking part, from biodynamic vineyards to community-funded food forests; aquaponic market gardens to milk-based vodka distillers; fermenters, foragers, smokeries, goat herders, bakeries: you name it … and that's before you get started on the cider and the cheese!
​The food trail is organised by team of volunteers led by Wells Food Network, which is a member of the national network of Sustainable Food Places, a programme led by the Soil Association, Food Matters and Sustain to encourage a cross-sector approach to tackling failings in our current food system.
Richard Crocker, the chairman of the organising committee, says: "We believe by putting healthy, sustainable food at the heart of all we do, we can strengthen our communities, conserve our countryside and boost our local economy."