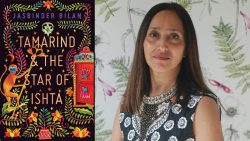 SOMERSET-based author Jasbinder Bilan has followed up her Costa Children's Book Award-winning debut novel with a delightful new story, which similarly draws on her family background in India close to the Himalayas.
Jasbinder came with her family to the UK when she was still barely a toddler, but although they lived in a big city – Nottingham – her mother kept memories of their Indian home alive.
"I was born on our family farm in India, close to the Himalayas. My mum told me that I was born in a stable which all my brothers and sisters think is very funny! On the farm we had lots of animals including a grumpy camel and a monkey called Oma who adopted us and became part of our family. She used to love carrying my brother off to the neem tree in the farmyard where she would rock him to sleep in her arms.
​"One of the things we used to love doing was sitting outside under the starriest of skies, building a big fire and making popcorn. This is when my uncles and my grandma (my majee) would tell stories. Even though I was only a baby I think those nights are why I love the magic of stories."
Jasbinder worked as a teacher for some years, before taking a Master's degree in creative writing at Bath Spa University, where she began writing her first book, Asha and The Spirit Bird.
The new novel, Tamarind and The Star of Ishta, is partly a journey of discovery for its young protagonist and partly a magical, mythical story. Jasbinder's books are aimed at young readers, and we asked 11 year old Anne Casey to read it and write a review. Here's what she thought:
"Tamarind and The Star of Ishta is a book set in India about a girl named Tamarind. She lives in Bristol and her mother is dead. Her father has just married a woman named Chloe Raju. Tamarind's father and Chloe leave her in India while they go on their honeymoon.
"Tamarind now uses this as an opportunity to find out more about her mother, as every time she mentions her, everybody turns silent. When she finds out the shocking truth of how her mother died, she is left shaken.
"My favourite part is when Tamarind sneaks out at night to find a girl similar to her and wonders who this is. She then becomes friends with this mysterious girl and visits her every night.
"There is nothing in this book I would want to improve. It's an extraordinary story full of adventure and mystery and I would recommend this to anybody who loves an action-packed but heart-warming story."