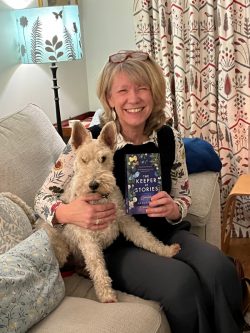 SALLY Page could almost have called her debut novel The Terrier's Tale rather than The Keeper of Stories. A "small, untidy fox terrier" is almost as important as the central character, Janice, the cleaner, whose story is told in this enchanting, funny and touching book.
Janice sees herself as invisible to her clients and that invisibility allows her to be an unobserved listener. She has become a collector of other people's stories, but when she meets Decius, the wire haired fox terrier, her own story begins to reveal itself.
Decius is an unlikely actor in Janice's story. He is another observer, particularly of his loathsome, arrogant and patronising owners – and he swears like a trooper. Only Janice knows this. She and Decius (the Latin name chosen by his owners, a pompous, greedy academic and his snobbish wife) form a silent bond, in which Janice listens and Decius comments.
The wire haired fox terrier – independent of spirit and definitely only half-trained, like others of his breed – is so realistic that we, as owners of a wire haired fox terrier (who doesn't swear, as far as we know), couldn't believe that Sally Page didn't know any of the breed!
People talk to Janice, often, she thinks, because they don't really see her as a person in her own right. They tell her stories about their lives and gradually the stories around her help her to see herself.
Walking the fox terrier, helping the aged but proud and fiercely independent mother of the awful academic and the friendship of a rather unusual bus driver,  all help Janice to acknowledge her own story and to discover a life for herself.
Writing obviously runs in this family – Sally's daughter Libby is the author of three novels, The Lido, The Island Home and The 24 Hour Cafe.
Pictured: Sally Page with Pippin, the wire haired fox terrier, who did not inspire her to create Decius!