FANS of the Mapp and Lucia books and television adaptations may remember the pageant (in which Lucia, predictably, played Elizabeth I),
EF Benson was inspired by the popularity of pageants in the years of the 20th century – and one of the finest was staged in Sherborne.
A documentary film inspired by the Sherborne Pageant of 1905 is being made by Windrose Rural Media Trust, which has a vast archive of historic film from Wiltshire, Dorset and Somerset..
Led by Professor Paul Readman, Professor of Modern British History at King's College, London, the film traces the history of pageants throughout Britain.
"Working with Windrose has drawn our attention to the kind of rich filmic heritage around pageants and we have become more aware of it now," says Prof Readman.
The new film will take the viewer to locations from Carlisle to Guildford and to pageants dating from the 1900s to the present day. Filming has stopped due to the coronavirus pandemic but will be resumed once restrictions are lifted.
It is part of a larger project, The Redress of the Past, funded by the Arts and Humanities Research Council. The aim of the film is to reach a wider, non-academic audience.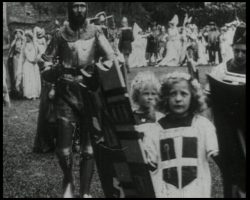 Prof Readman met Windrose's director Trevor Bailey by chance in 2015 after giving a talk in Sherborne about the town's extraordinary pageant, which involved an unpaid cast and organising team of 900, an audience of thousands, lavish costumes, orchestra, band, choruses and 50 horses.
In 2001, Windrose made a documentary, Mother of All Pageants, about Sherborne's event. It was presented by local historian Gerald Pitman and featured the 1905 film of the pageant. The film is now available on DVD.
Mr Bailey says: "Archives around the country have discovered films in their collections that show exactly what these extraordinary community performances were like and how they developed.
"A lot of this old film will be incorporated in the new film. From the 1905 Sherborne Mother of All Pageants onwards, cine film and pageants were natural artistic partners.
"Such tremendous team efforts demanded to be recorded in moving image. After all, they became part of their communities' history in their own right.  The people who took part remembered the experience as an important episode in their lives – a time when they achieved something out of the ordinary."
Music was a vital element in all pageants and it will be in the new film. Folk musician Amanda Boyd, who has worked with Windrose extensively over the years, is recreating original pageant music, which was often specially written, so that the film can bring to life something that was otherwise lost in old paper scores.
Back in 1904, the Daily Express described Sherborne as "a dull enough place to live in," bypassed by tourists heading for the coast of Cornwall and Devon. But that all changed with the Sherborne Pageant, which has become the Mother of All Pageants.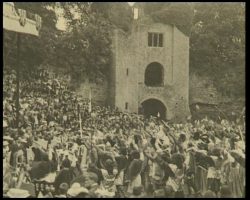 The event made a profit – used to create today's Pageant Gardens – and set an example which was taken up by communities across Britain and abroad and continued over generations.
To discover more about The Redress of the Past project visit www.historicalpageants.ac.uk
For information about the Windrose Rural Media Trust go to www.windroseruralmedia.org which includes archive film and audio from Dorset, Somerset and Wiltshire. Windrose has films of other pageants on its YouTube channel, including Bridport, Beaminster and Axbridge – visit https://www.youtube.com/user/windroseRMT/videos
Pictured: Scenes from Sherborne's 1905 "Mother of All Pageants" and Windrose director Trevor Bailey examining memorabilia and archive material with a volunteer.