THE Somerset-based Wassail Theatre starts the new year with a  new play based on true events.
Reclaimed, devised by the company from interviews and research into the catastrophic floods of 2013-14, will tour the region, stopping at 18 venues including village halls, pubs and Bristol's annual Ferment.
The story starts on an ordinary January day.  Then an extraordinary thing happened: the water came and it didn't go away. The community had been told to evacuate their homes and meet at the highest, safest point: the village hall.
What happens when a community is in crisis? When tragedy is moments away and when your loved ones are nowhere to be seen, who do you ask for help?
Reclaimed puts its audience in the heart of a fictional village under siege.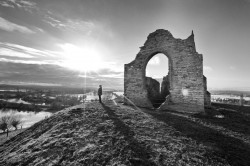 Wassail Theatre has been working closely with the people, communities and organisations on whom the 2013/14 floods made the greatest impact.
The play is directed by Jesse Briton, produced by Emma Vickery and Nick White and performed by Jac Husebo, Josh Marriott, Alys Metcalf, Riz Meedin and Lizzie Stables.
The first performance is on Friday 12th January at Moorland and Fordgate Village Hall, north west of Burrowbridge, close to the River Parret and in the heart of the Levels.
The following night Reclaimed is performed at the David Hall in South Petherton , and continues at Kingsbury Episcopi Hall on 17th January, The Theatre Shop at Clevedon on 18th,  The Red Brick Building at Glastonbury on 19th, Brushford Village Hall on 20th, Bridgwater Arts Centre on 25th, West Coker Village Hall on 26th, Radstock Victoria Hall on 27th, All Saints Hall at Langport on 28th and Crowcombe Village Hall on Wednesday 31st January.
February dates start on  1st at Loco Klub in Bristol, where the performance is at the early time of 6.30pm.
The tour continues at Chew Stoke School on Friday 2nd February, Burrowbridge Village Hall on 3rd, Wells Little Theatre on 4th, The Lord Nelson pub at Norton sub Hamdon on 7th and Ashbrittle Village Hall on 9th, ending at Taunton Brewhouse on Saturday 10th February.
For full details of the tour, visit the Wassail website, www.wassailtheatre.co.uk/reclaimed
Rehearsal images and Matilda Temperley's image of the floods from Burrow Mump.