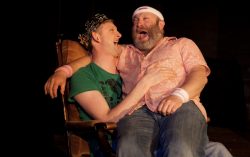 THE West Country's favourite comic duo, Living Spit, are coming to Dorset with one of their best-loved shows, The Six Wives of Henry VIII, at three venues and with a free online screening, from 15th to 18th October.
Dorset's rural touring arts charity Artsreach is delighted to be back with its first indoor theatre tour since the start of lockdown and audiences are sure to welcome Howard Coggins and Stu McLoughlin bringing their rough and ready approach to historical accuracy, to re-enact the life and loves of one of England's most infamous monarchs and his unfortunate wives.
Howard Coggins looks like Henry VIII. There's no escaping that. Stu McLoughlin doesn't look like any of the wives, but he's going to give it a go.
After their previous self-funded historical drama is savaged in the press, Howard (Bristol Old Vic) and Stu (Kneehigh) are at their wits end. Then they hit on an idea for a show that could change everything….  But can two of the South West's favourite theatrical sons put aside their differences and make it through to the end without killing each other?
​
The Six Wives of Henry VIII was a hit when it first toured with Artsreach in 2013. Now it's back, with live original music, embroidery, barbie dolls, silly songs and historical hysteria,  promising another ill-researched lesson in cross-dressing Tudor history.
Artsreach and its hardworking team of village hall  have worked hard to be able to open the doors safely for this tour which starts at the Pamela Hambro Hall at Winterborne Stickland on Thursday 15th October, followed by Sandford Orcas village hall on Friday 16th and Corfe Castle on Saturday 17th. All performances begin at 7.30pm.
The performance is suitable for ages 12-plus; audience members are required to wear a mask throughout their visit. Tickets must be booked in advance.
Artsreach is also offering the opportunity to watch a recording of the show online at the end of the tour, on Sunday 18th October at 8pm. Find out more and book tickets by visiting www.artsreach.co.uk