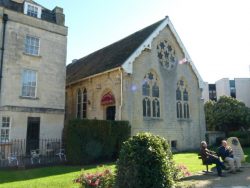 LIVE music venues, including the David Hall at South Petherton, the Cheese and Grain at Frome, Taunton's Creative Innovation Centre, Exeter Phoenix, Bristol's Fleece and Fiddlers, Southampton's Joiners, and Moles, Komedia and Chapel Arts Centre at Bath, have signed an open letter to the UK Government highlighting the need for an immediate £50 million financial support package and a reduction of VAT on future ticket sales.
The open letter says: "Last year there were more than 175,000 events in our venues that gave people the experiences they love and the artists the opportunities they need. Since 20th March there have been no events.
"This is because our sector has complied with the public health guidance. We did the right thing. We closed to protect our communities. We engaged with the government task force and we explored every option available to reopen safely and bring live music back. We understand that in order to protect the public, it should not be done until the health guidance changes and we also know that trying to do it is economic folly which would be financially ruinous; not just for us but for our entire sector."
They argue that if the financial support package and VAT reduction would "…..prevent the closure of hundreds of grassroots music venues. … We do not need permanent government intervention to exist. We are not asking to become a permanently subsidised drain on the public purse. We do not need the government to step in and tell us how to run our venues. We need government to take two simple steps and leave us to work out how to do the rest. "
The Music Venue Trust, which represents the grassroots venues, describes the plan as simple and clear, intended to enable the sector to survive the next three months (July, August, September) and to recover in the future. The letter to the government concludes: "We need you to do the right thing."
Pictured: Chapel Arts Centre at Bath.