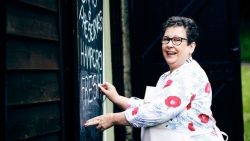 PRESERVE specialist Rosemary Jameson, the founder of the Guild of Jam and Preserve Makers, has organised the UK's first-ever online jam festival to take place from 25th July – 2nd August.
Rosie, the founder of Rosie Makes Jam and Love Jars, is based in Rutland. She has a life-long passion for jam-making and in the last few years has worked tirelessly to make it an accessible skill to be passed down through the generations.
With the lockdown restrictions meaning most produce shows have been cancelled for 2020 so there is nowhere for jam makers to show off their wares, she has launched the Stay at Home Jam Festival, which will take place on Facebook in July and August.
Rosie will lead a jam making session and everyone who makes jam throughout the week will be asked to send in their totals to be added to the "Jamometer". Artists, artisans, musicians, bakers, makers and poets can get involved and the festival will culminate in a Jamkhana, a "virtual summer fair."
In 2017, Rosie was diagnosed with breast cancer and during her treatment, from which she has now fully recovered, she wrote a book about her life called In a Bit of a Jam. She set herself a mission to teach people who have never preserved before how to reduce waste, recycle food and fill their store cupboard.
As part of the Stay at Home Jam Festival, Rosie is also launching Swap Crop, to encourage people who have excess fruit or vegetables to swap with neighbours using the hashtag #SwapCrop or by posting in her Facebook group, Preserve it!