VENUES across the south west, including Poole's Lighthouse arts centre and Bristol Old Vic were quick to welcome news of the government's £1.57 billion rescue package for the arts, culture and heritage sector.
Elspeth McBain, the Lighthouse chief executive, was on BBC Radio 4's Today programme on Mondayt morning. She described the news as "an amazing boost for us all because we were fast approaching the point at which we could not carry on."
Bristol Old Vic's artistic director Tom Morris said: "We are delighted by the scale and range of last night's announcement. Artists, economists, producers and audience members have powerfully argued that the national theatre infrastructure would be impossible to rebuild if we were to let it collapse. Government has heard that call and invested."
Thousands of organisations including theatres, concert halls, live music venues, galleries, museums, heritage sites and independent cinemas will be able to access emergency grants and loans.
Elspeth McBain said: "At the stroke of midnight the government kept its promise not to let down the arts sector, but we hope the regions will be as supported as the large institutions because what Lighthouse delivers for our community is huge."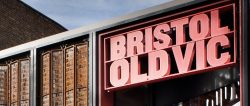 Tom Morris said: "There's much to find out about how the funds will be applied but this investment feels like a decisive vote of confidence by Rishi Sunak and Oliver Dowden in the enormous contribution that the arts and culture can make to our social, educational, creative and economic recovery from the Covid-19 disaster. It can't save every organisation or support every artist, but we unreservedly welcome and applaud it.
"Like others across the sector, we look forward to working closely with the Arts Council and DCMS to ensure that the funds can be released quickly enough to minimise the damage of cuts being made to many organisations, and be used speedily to employ the freelance artists who have been so badly hit by the pandemic.
"We need to make sure that money reaches freelance artists fast, not only through the hardship funds announced from Netflix and others, but through meaningful employment too."
Announced by the Department of Culture, Media and Sport (DCMS) as "the biggest ever one-off investment in UK culture," the package aims to provide a lifeline to maintain cultural and heritage organisations while their doors are closed.
"Our arts and culture are the soul of our nation," said Culture Secretary Oliver Dowden. "They make our country great and are the lynchpin of our world-beating and fast growing creative industries. I understand the grave challenges the arts face and we must protect and preserve all we can for future generations.
"I said we would not let the arts down, and this massive investment shows our level of commitment."
Mr Dowden said the package is all "new money" and has two broad aims – to preserve "crown jewel" venues like the Royal Albert Hall and national galleries, while also helping local institutions across the UK.
He said institutions applying for the new grants and loans through industry bodies would have to prove how they contribute to wider economic growth. The government is expected shortly to publish guidance for a phased return of the performing arts, starting with performances behind closed doors and rehearsals.
The £1.15bn support pot for cultural organisations in England is made up of £880m in grants and £270m of repayable loans. The government said the loans would be "issued on generous terms." Funding will also go to the devolved administrations – £33m to Northern Ireland, £97m to Scotland and £59m to Wales. A further £100m will be earmarked for national cultural institutions in England and the English Heritage Trust.
There will also be £120m to restart construction on cultural infrastructure and for heritage construction projects in England that were paused due to the pandemic.
The scheme will open for applications in the coming weeks and decisions on awards will be made by DCMS working alongside expert independent figures from the sector, including Arts Council England, Historic England, National Lottery Heritage Fund and the British Film Institute.
Tom Morris hoped that in Bristol, the funds "will allow us to renew our work with our communities in the immediate term, and to rebuild our programmes through experimental performances until we can play safely to full houses again. It is also hugely encouraging to see that some in government are thinking ahead towards the next five years of cultural investment."
Pictured: Bristol Old Vic; Poole's Lighthouse arts centre and its empty spaces.