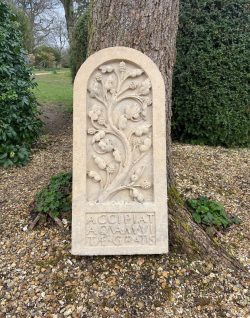 A BEAUTIFUL carving by Sebastian Brooke, this Bath stone artwork, newly installed at the New Art Centre at Roche Court near Salisbury,  bears a Latin inscription which translates as "Let Him Accept the Water of Life with Thanks, 1999."
Recently sited in the gallery and sculpture park's new gravel garden, the message encourages thanks to the Holy Spirit, as symbolised by the Water of Life. Such a metaphor for the Holy Spirit implies that this force may provide spiritual nourishment and galvanise inspiration – sensibilities that can be understood and experienced beyond a purely Christian context. This is reinforced by the burgeoning flora that are rendered above the text, as if out of these words an energy is emanating that manifests physically in the blooming of nature.
As well as his work as a sculptor, Sebastian Brooke is currently focused on his role as project director of Eden Portland, an exciting and visionary plan for a site on Portland to become an epicentre of learning dedicated to educating people of the threats posed to global biodiversity – and the potential solutions.
Portland is a fitting location for such a project to take place, with its position at the heart of the Jurassic Coast World Heritage Site where the stories of extinction and evolution first began to be understood. Portland also provides a remarkable natural resource, Portland stone. The tunnels that will house Eden Portland are cut from this very stone.
Sir Tim Smit, founder and executive chairman of the Eden Project, says: "It is our collective ambition… that this should be the catalyst to the creation of educational facilities that will in turn incubate opportunities for the island for years to come."
Roche Court Sculpture Park is open. Booking is essential. To make an appointment, please email nac@nullsculpture.uk.com