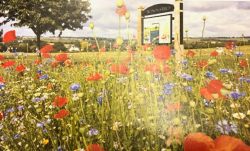 JUST before the lockdown, Shaftesbury Town Council's grounds team prepared four sites across the town for sowing with wildflower seeds.
The team has now planted different seeds in the trial areas at the Christy's Lane/ Linden Park junction, a strip on the Royal Chase roundabout, the  A30 Salisbury Road verge and New Road by the underpass. There are signs at each of the trial areas to tell the public about the planting.
The council is keen to hear from local people which flower type they prefer ready for the growing season  next spring.