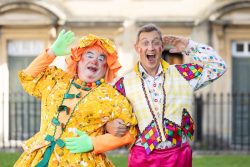 BATH's favourite double act is back again for Christmas – and this time comedian and writer Jon Monie and lovable "Dame" Nick Wilton are joined by East Enders "bad boy" Neil McDermott as a dashing prince.
Jon, into his 21st Bath pantomime season, and Nick, for his sixth festive period in the country's prettiest theatre, have established a great on-stage rapport and a warm relationship with the audience.
Part of the success is the story-telling – Bath Theatre Royal, says Nick, is a fairy-tale setting for fairy tales. Jon, who has written Bath's 2023 panto, Sleeping Beauty, agrees: "The story is the key. It's not one of the most frequently performed pantomimes but it is a lovely fairy tale, with a nice balance of evil and good – Carabosse and Fairy Snowfall – and lots of adventure, comedy, romance, flying and slapstick.
Nick, playing Nanny Nora, is a dame in an old tradition, kindly, cuddly, funny and a bit sad. She is not a glamorous figure in gold and glitter, as are so many contemporary pantomime dames. Nick thinks this trend owes a lot to the current high profile of drag.
But a panto dame is usually a poor widow, unable to pay her rent, on the verge of being evicted by a ruthless baron or squire, dependent on the wit (or otherwise) of her energetic but often reckless or foolish son. And that's how Nick plays it – "character not caricature."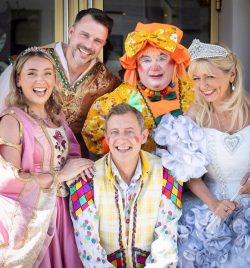 The costumes should look as if they have been made by someone who doesn't have any money. "They aren't meant to be beautiful," he says. "I know I am different from a lot of other dames, and there is a place for glamour, but Bath allows me to do a traditional dame."
Neil McDermott has had leading roles in many big musicals –including Les Miserables, The Sound of Music (playing Captain Von Trapp), La Cage aux Folles, Follies and Shrek, and has an impressive serious theatre CV, including Home I'm Darling, which toured to Bath earlier this year.
But for many people, and apparently for many stage producers, he is best known as Ryan Malloy in East Enders, a role he has played for about 14 years. So he has found himself regularly cast as a villain! But the parts are often comic baddies, like Lord Farquhard in Shrek, who is a dwarf, and the actor has to play him "on his knees"! No such problems in Sleeping Beauty, where he plays dashing Prince Vincent, ready to rescue his Princess Rose (Maisie Sellwood).
Nick made his professional panto debut in one of the most talked-about pantomimes of the past 20 years – playing the title role in Aladdin at the Old Vic in London with Sir Ian McKellen and Roger Allam. It was a spectacular triumph, "like a full-scale musical," recalls Nick, and opened the velvet curtains for the trend of what became known as "posh panto," with big name stage actors treading the festive boards.
Lockdown meant the complete closing of theatres and for Nick, as for so many actors, the spectre of long-term unemployment. (It's a precarious profession at the best of times.) Nick added another string to his bow – writing. With his friend, actor Gina Beck, who lives in the same village, they wrote and performed their show, a two-hander called The Elf Who Was Scared of Christmas, at Charing Cross Theatre. He is now working on another play, with his Home I'm Darling co-star, Jessica Ransom.
But right now he is looking forward to playing Prince Vincent, who he hopes will be "vain, ditsy and not as smart as he thinks he is." He is also hoping that his family, wife and three children (the youngest will be barely four months old at Christmas and perhaps too young for pantomime!) will be coming to Bath to see the show, and he will have Christmas Day at home.
Bath is almost home for Jon Monie, who lives near Bradford-on-Avon, and has been a favourite with local audiences since he first formed a successful double act with the much-loved and still-mourned Chris Harris, one of the all-time great Dames and a talented pantomime writer.
As well as television and stage work, including regular appearances with Bristol-based improv collective, Instant Wit, Jon has been writing pantomimes for about five years. This time he not only stars in his Sleeping Beauty at Bath, but also has another new show, Snow White, at Bournemouth and Aylesbury.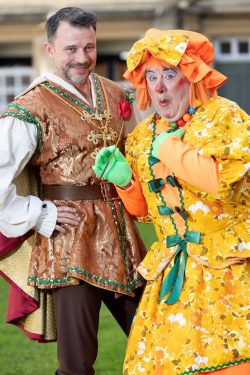 For Bath, he will be Lester the Jester, the son of Dame Nanny Nora, and he promises lots of fun and new routines, both with Nick/Nora and with the Prince and the fairy godmother.
Jon's shows always ensure that the leading female characters have plenty to do, and are not just pretty – his Princess Rose will be feisty! It is more realistic, he says, at a time when women are in control of their own destiny. "It is important for children to see something that is more representative of the modern world."
Some of the big commercial pantomimes, with their celebrity television and stage stars, run the danger of being more like variety shows with a series of "acts" but no narrative flow, he says.
"We have to be honest with our audience – we want their trust. And children know this. We treat the dark moments with respect – and Sleeping Beauty has some very dark moments!"
This Sleeping Beauty starts at a different place from the traditional story, but all the familiar elements will be there, ensuring that there is plenty of action for all the principals.
All three of the show's stars are looking forward to the pantomime: "Bath is one of my favourite theatres," says Neil. "It has a great theatre-going audience that is really invested the show."
"Bath does real story-book pantomime," says Nick. And Jon, who earned his spurs with the great Chris Harris, says: "Chris established something really special here." And he and Nick and Neil and all the cast will be continuing that wonderful legacy.
Sleeping Beauty is at Bath Theatre Royal from Thursday 7th December to Sunday 7th January.
Pictures of Jon Monie as Lester the Jester, Nick Wilton as Dame Nanny Nora, Neil McDermott as Prince Vincent, Sarah Jane Buckley as Fairy Snowfall and Maisie Sellwood as Princess Rose. Photographs by Freia Turland.