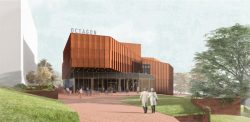 PLANS for an ambitious redevelopment of Yeovil's Octagon Theatre have been put on hold by Somerset Council, because of the impact of rising interest rates on the council's borrowing to fund the £30 million scheme.
Yeovil Town Council  called a special meeting at Westlands to discuss the way forward.
Councillors on Somerset Council  have asked for alternative plans to be drawn up after hearing that the original business case is no longer affordable. Interest rates have risen four-fold, from 1.5% when the business case was approved, to around 5.6% last month. This would increase the costs of the project, even if construction costs stay the same.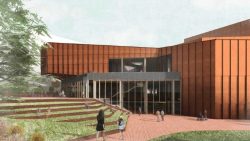 Funding for the scheme included £10m from Arts Council England, based on the theatre's main auditorium expanding from 622 to 900 seats. It was anticipated that the council would borrow £16.3m from the Public Works Loan Board at 1.5%. But with the increased interest rates, there would be a rise in interest rates from £245,000 to more than £1m a year for the first few years.
With tight government restrictions on local government spending, the council is anticipating a £26.1m overspend for the current financial year. This has led to a review of all spending, including capital projects, to ensure core services for those most in need are protected.