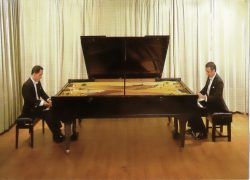 A REMARKABLE Pleyel Double Piano will be the focus of attention on Sunday 8th October, when David Nettle and Richard Markham come to Bournemouth Chamber Music for a recital at Bournemouth University at 3pm.
Opening the 2023-24 season, they will perform music by Saints-Saens, Debussy, Ravel and Poulenc, and are celebrating 46 years of piano duo partnership. They are one of a handful of international ensembles whose dedication and commitment have stood the test of time and, as such, bring a special kind of expertise and experience to the concert platform.
They own one of the very few remaining Pleyel double pianos, and store it in their unusual railway arch studio. Its creation was the rather extravagant whim of the Parisian firm of Pleyel, whose instruments were the favourites of composer and pianists including Chopin, Grieg, Debussy, Saint-Saëns and Stravinsky. The company's success led them to invest in experiments, resulting in 1890 with a double piano and later with their version of the Pianola.
The company manufactured a small number of double pianos in the 1890s, but David and Richard's double piano is one of only a handful of larger "concert" models which Pleyel made in the 1920s. It is therefore very much a "modern" piano and the same age as the two Steinways in their London studio. It was originally housed in the Théâtre du Châtelet in Paris, and was purchased from a private owner in Paris in 1993.
The instrument can be best described as two overstrung pianos in one rectangular case, with a keyboard at each end, a combined soundboard and one large lid to reflect the sound of both pianos to the audience. Not only does a double piano ensure that the sound and response of the two instruments are exceptionally closely matched, but subtle resonances can be produced which are impossible to obtain using two separate instruments.
For more details, visit the website, https://bournemouthchambermusic.co.uk