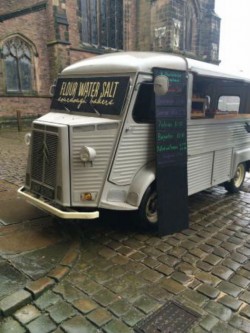 MACCLESFIELD in Cheshire holds its Treacle Market on the last Saturday of every month; it's a relatively new invention, aimed at bringing back life to one of the most attractive small towns that orbit Manchester.  It reminded me of our own Frome Independent, the market stalls trickling down the hills and congregating wherever there's a flat area large enough. As in Frome there's an eclectic mix of foods, fabrics, and fabrications, and similarly a great gathering of customers who want anything that doesn't smack of mass production.
Macclesfield's nickname is Treacle Town, originating from a spillage caused by a barrel of treacle falling from the cart on which it was travelling. Imagine the crack as the barrel hit the ground, the work involved scraping the stuff from the setts that pave much of the town's streets. The exact date of this momentous event doesn't seem to have been recorded, but as treacle, being a by product of sugar refining, doesn't appear until the 18th century, it must have been around then. It has obviously stuck in the folk memory.
It has always been a cheap food – bread and treacle was an economical way of filling up hungry children – but it has other advantages too. It's strong flavour is very much a northern thing to me, although this isn't logical. My brother liked treacle sandwiches and we lived in Sussex. I always preferred golden syrup then, treacle's paler, sweeter cousin, but my taste buds have grown up, and the dark sophisticated combination of sweetness and bitterness appeals more now.
The stalls of the Treacle Market offer much in the way of treacle-ish foods. There were many variations of sticky toffee pudding, some which depended on muscovado sugar alone, some that were laced with treacle. All were sweet, rich and delicious. We roamed the stalls, trying treacle cured ham, treacle toffee, dark pungent beers – and parkin.
This was something I used to bake in quantity when we lived at nearby Styal, in order to fill the tea room of Quarry Bank Mill on a busy Sunday. Quarry Bank is now a thriving museum of the cotton industry. Back then it was in its infancy and my roasting tins of parkin, made from equal quantities of treacle and syrup which were blended with spices, flour and oatmeal and enriched with lard were enough to keep visitors fed as they dropped in for a cup of tea and something sustaining.
Macclesfield had a striking range of traditional and local foods. In Frome I look for the pistachio nuts grown by someone who has her own pistachio orchard in Greece, and the tarelli baked by a girl from Italy who was homesick for these crisp little knots of dough, laced with fennel seeds, and the huge range of cheeses, even oven-ready squirrel once, and signal crayfish. In Macc we bought three different sorts of oakcake, my husband's favourite breakfast food, from Derbyshire, Staffordshire and Longon, the southernmost of the six pottery towns. These are the soft pancakey type, delicious toasted with butter melting on them, and equally useful folded round egg and bacon, or melted cheese.
But it was the pies that really persuaded us we were in the north – Frome does charcuterie, but these were proper pies with gravy. We sampled beef and potato pies, and mutton and leek, and pork and apple (very Cheshire, that), and modish vegetarian versions with chilli. Cheese and onion (Cheshire cheese, obviously) were good, so was a venison and mushroom. The pastries varied from hot water crust to puff, and sometimes filo, although that seemed a bit dainty for the fillings. An enterprising Russian stall offered mushroom piroshkis, and containers of real Russian salad.
The chat was of dogs, and beer, of a fashionable gin in a beautiful stoneware bottle, and there was morris dancing and excellent coffee. There was this northern air about it, and there were flat caps and whippets, but they were stylish and had flair, not your stereotypical image of oop north which our friends tease us about.  There were few London accents, and the friendliness was like a warm coat. We lived in the area for 20 years and miss it still.
The next day we ate Sunday lunch at  Oliver's, a fine restaurant in the next door town of Bollington. We met treacle again, in a treacle and raspberry ice cream. I'm going to try it myself – the dark molasses flavour combines really well with the sharpness of raspberries. I'm going to try this on our southern friends, to revive a taste for it dahn sarf as well.
Simone Sekers