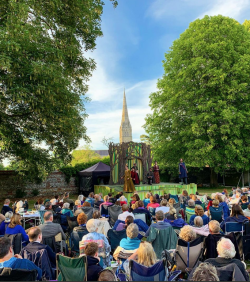 WHAT better way to start the open air touring season than with the scintillating 2019 version of the alfresco Shakespearean favourite, performed by the Lord Chamber­lain's Men?
Coinciding with Salisbury Fest­ival, their Rack Close performance on Friday delighted a large audience from the opening song to the closing moments.
Peter Stickney's witty, incisive and clever adaptation brought the heart of the story to an audience of newcomers and old hands whose age range could only have delighted the Arts Council England chief executive, Darren Henley. He could hardly have seen a better example of outdoor touring summer theatre than this, with the magnificent Salisbury Cathedral spire as its backdrop and brilliant performances in a style which Shakes­peare would have recognised and been proud.
Working with sumptuous costumes on a small, high stage, seven men portrayed a cast of 16 men and three women in this fast-moving story of love, jealousy, revenge, fairies and (of course) rude mechanicals.
Bristol Old Vic Theatre School graduate Mark Puddle started the company 15 years ago, with the philosophy of performing Shakes­peare (no royalties) in Elizabethan costume, with song and dance and an emphasis on clear storytelling and audience satisfaction. It has paid off royally.
This year's company includes three former BOVTS students, perhaps familiar faces to some in the Salisbury audience. In a star-free ensemble a few characters stand out, like Will de Renzy-Martin's elegantly arch Hippolyta, James Camp's comical, loveable Bottom, George Readshaw's huffy Helena,  Joshua Glenister's eager-to-please Snout, James Kenin­gale's unusual Puck, Maximilian Marston's scheming Oberon and Alex Wilson's bookish Peter Quince.  All sang the early French music like a dedicated vocal ensemble, and wove their web of magic over the festival audience in minutes.
It's a terrific production, and well worth a visit as it tours the south and west region, and beyond.
GP-W
The Lord Chamberlain's Men tour continues at Glastonbury Abbey on 2nd June and Bryanston School on 26th June. In July it is at Bradley Manor at Newton Abbot on 23rd, Pentille Castle, Saltash on 24th, Brandon Hill in Bristol on 26th, Tynestfield at Wraxall on 27th, the Bishops Palace at Wells on 28th, Killerton at Broadclyst on 30th and Dunster Castle on 31st.  The tour also stops at Kingston Lacy near Wimborne on 1st and Breamore House on 31st August.