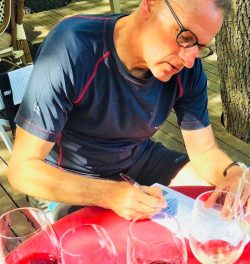 THERE was a time when the only spices in the average kitchen were nutmeg, pepper (usually white and finely ground) and possibly cinnamon. Names such as baharat, sumac or zaatar were, literally, foreign to the average British cook.
Tastes and cooking knowledge have moved on hugely and nowadays, in part thanks to inventive and inspiring chefs and writers like Madhur Jaffrey, Yotam Ottolenghi and Claudia Roden, most of us are as comfortable with cardamom, coriander, cumin and turmeric as we are with sea salt and freshly ground black pepper.
We probably know the difference between a mild chilli pepper, such as jalapeno, and a set-your-mouth-on-fire example, such as Carolina Reaper. But we don't always know what to do with a lot of spices, to make the most of their subtle, aromatic, heady, earthy, exotic or hot qualities.
A passion for barbecues has introduced many to the idea of spice rubs and more adventurous travel has led to encounters with flavours from places as distant as Vietnam, Peru, Japan, Nigeria or Nepal (who watched Masterchef The Professionals 2020 and didn't long to taste the delicious food created by Santosh?)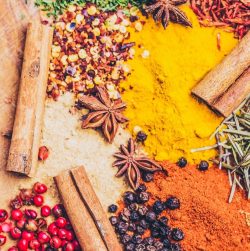 Dorset-based Ben Hitchcock is making use of his expert palate – honed over 30 years as a professional tea taster and blender – to create a selection of spice blends that bring exciting tastes from four broad culinary regions to enhance your cooking.
Newly launched, under the name From Far Flung, the blends are Mediterranean, Bedouin, Oriental and Americas. They are a reflection not only of Ben's skillful palate but of his experience travelling the world to sample teas, as a taster and buyer.
A family connection led to his first career, as he recalls: "After leaving school I came across an interesting advert for a company looking for a trainee tea buyer. My grandfather had spent much his life as a cotton planter in India and my great-uncle all of his life as a rubber planter in Malaysia – this connection with the Far East made a potential career as a tea taster a very interesting proposition, given the opportunity that it included travelling the world."
Initially Ben trained as a tea taster with Twining. It was a kind of apprenticeship, in which the trainee had to "taste and slurp as many teas as you could each day, up to 300, training the palate to recognise the characteristics of each tea."
When he was able to differentiate teas from different origins he moved on to tasting teas from the same country, beginning to discern their distinctive qualities: "I would follow the buyer of each origin down the tea batches, making notes of the quality and value of each tea, and finally going down the line tasting the teas myself in order to understand the notes that I'd taken."
The skills acquired over several years, enabled Ben to put a value to each tea: "This is when you began being of some use to the company."
After seven years of developing his palate, Ben moved to Dorset as a tea buyer and blender for Dorset Tea. He used his knowledge and experience to put different teas together, with their unique characters, to create blends which attracted a wide spectrum of trade customers, from supermarkets to speciality tea houses like Whittards of Chelsea. They ranged from good, strong "builders" tea to the finest teas from India, Sri Lanka, China and Africa. Ben says: "I was fortunate to travel to all these places to find new and interesting teas with a view of creating some wonderful and flavoursome blends."
It was time to leave the fascinating world of tea: "After 30 years in tea I fancied a career change in order to chase some new and exciting experiences," he recalls. "When I travelled I was aware that many spices grew alongside the tea gardens – I was easily side-tracked into the pepper vines or found myself wandering off into the cinnamon trees!"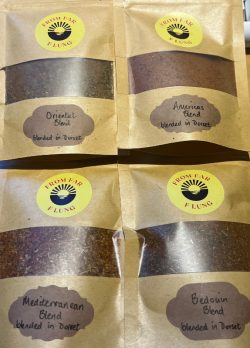 He discovered that small-holders often grew and harvested spices alongside their tea to give them an income from several crops rather than relying solely on tea. This diversification improved biodiversity on their plots, and gave them some financial protection if a crop failed, while also protecting the wider environment.
An ancient pot of spices set him on his new path: "After discovering a jar of cloves in my cupboard with a ripe old sell-by date of January 2001, I knew my direction was set, with my inherent interest and desire to understand more about the quality and functionality of spices."
He spent seven years sourcing and buying herbs and spices at the long-established family business, Bart Ingredients in Bristol, which celebrates its diamond jubilee next year.
"I was particularly intrigued by herb and spice blends, the way regions within countries used their understanding of the ingredients to hand, creating wonderful flavours that were reflected in the people and their food – right across the world.
" I knew with my trained palate and understanding of
spices I could create deliciously interesting and new flavours, but without the restriction of region, free to pull on all the origins and play with flavours, aromas, textures – marrying them with different dishes and putting together my take on diverse ingredients. From Far Flung was established to bring these ideas and flavours to market."
Ben's notes for the four blends are:
• Mediterranean: Savoury sumac notes rise from this blend combining with the Mediterranean herbs of rosemary and marjoram; perfect with chicken and also sprinkle over breakfast eggs.
• Bedouin: A strong cumin aroma with sweet paprika and some fennel and dill characters; mix into olive oil and smear over toasted pitta bread or perfect with lamb.
• Oriental: Hints of seaweed and gentle acidic notes from the sumac combines with a gentle chilli warmth; add to stocks stews and casseroles or stir into a soup.
• Americas: A slight smokiness with some sweet onion notes and gentle heat from chilli, ginger and mustard flour; ideal as a marinade with pork.
The descriptions are enough to encourage a keen cook to experiment. You don't need a deep knowledge of the food of Greece or Turkey, the Lebanon or Iran, Japan or Vietnam, Mexico or Peru, to use one of these blends.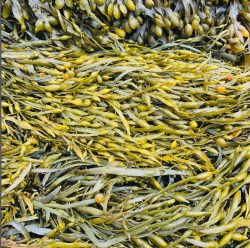 A simple venison casserole can be transformed with a generous spoonful (tea or dessert, depends on how adventurous your taste buds are) of the Oriental blend; a tray-bake of chicken thighs will be taken to a new level with a good sprinkling of Bedouin blend; pork belly rubbed well with the Americas blend will suggest both the Deep South USA and the more exotic tastes of Latin America; and chicken, lamb or a wide range of vegetarian dishes will be elevated by the Mediterranean blend. The world is your tasty, spicy oyster!
For more information and many more mouth-watering photographs, visit Ben's Intagram, @fromfarflung
Pictured: The From Far Flung range of spice blends; seaweed, an ingredient in some of the blends, colourful spices, a range of teas for testing, pepper (in the green phase) on a pepper vine; Ben in his garden, enjoying some wine tasting.