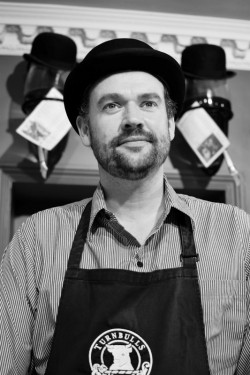 CHEESE expert Charlie Turnbull has given his Shaftesbury business a makeover, redecorating and converting the cafe area to a bistro while keeping the deli/cheesemongers side of the enterprises.
Charlie, who was born on a farm in Surrey and trained as an accountant before realising he had a nose (and an appetite) for cheese, opened Turnbulls, in a pretty double-fronted shop on the High Street in 2003.
It rapidly became one of the most popular cafes in Shaftesbury and Charlie's expertise ensured that local cheese lovers now had a dedicated cheesemonger who would find the best cheeses and bring them to north Dorset.
The new bistro menu includes specials that change regularly, such as crushed peas and feta on toast or a more substantial rump steak with peppercorn sauce, chips and salad, Dorset apple cake or Chocolate Torte. Local and classic European cheeses are on the cheeseboard.
The aim says Charlie is to offer "great value good food." The food is prepared by chef Sunny (Medpiya Sin) while menus are devised by the experienced and creative executive chef, Simon Trepess, who was head chef at the acclaimed King John at Tollard Royal.
The regular deli menu includes traditional breakfast choices, great cakes, soup, tart and salad of the day, and a cheese menu (it's a cheesemonger, after all!) including Welsh Rarebit and Croque Monsieur.
There are themed events and wine-tastings and occasional fondue evenings – visit the website www.turnbullsdeli.com for the latest events and news.
On the cheese side of the business, Turnbulls regularly has 50-plus (more than 90 before Christmas) of the finest and best-known cheeses, from Europe and further afield, including the locally made Montgomery's, Keens' and Westcombe traditional farmhouse cheddars and Dorset Blue Vinny.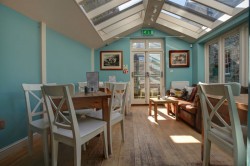 "We stock cheeses because they are excellent," says Charlie, who is one of the country's leading cheese judges, judging at the World Cheese Awards, run by the Gillingham-based Guild of Fine Food, as well as at Nantwich, Taste of the West, the Great Taste Awards and Bath & West Show, and even occasionally for the French at the Concours Generale Agricole.
He gives talks and tutored tastings on cheese and beer matching at food festivals and talks to groups like the WI on the pleasure of cheese. He visits small cheesemakers all over Europe to learn from their cheese making skills.
He says he has never met someone whose love of farmhouse food does not extend to a love of friends, family and hospitality in general.