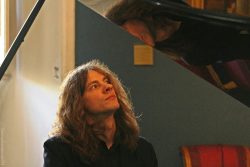 THE live performance versus recording argument is an interesting one. Some performers favour the perfection achievable with digital recording techniques. Others – and those of us who love live performance – believe that the immediacy and atmosphere of the concert hall offers excitement and involvement that no CD or other recording can match.
So we were eagerly anticipating the fireworks of Chopin and Beethoven in a recital by a young Anglo-Italian pianist Giovanni Lonati, making his British concert debut in St Luke's Church, Bath.
It is probably sacrilege, particularly for those who love the polished perfection of the recording studio, but for me Chopin is always best played live. All that Polish patriotic fervor and fierce emotion just erupts from the piano as the soloist immerses him (or her)self in the music. On a recording, it can sound mechanical.
Lonati's recital began with three mazurkas followed by a sensitive and measured performance of Two Nocturnes Op 32. The excellent acoustics of the church allowed for every nuance to be appreciated.
After these gentle introductory pieces, the fireworks exploded with the Polonaise Op 26 No 1 – this was an electrifying performance in which many of us held our breath with the excitement and drama of the work.
The first half ended with the Ballade No 1 in G Minor, the most beautiful of the four Ballades. This was played with sensitivity and clarity, allowing all the complexity and emotion of the music to be savoured and enjoyed.
The second half was given over to one of the masterpieces of the piano repertoire, Beethoven's Sonata No 23, Appassionata. The young pianist, a graduate of the Rome and Milan conservatoires, rose brilliantly to the technical challenges of the work, but it was the force of Beethoven's massive, emotional music that swept through the audience and left us as exhausted as the soloist.
I very rarely listen to recorded piano music because it tends to be so un-involving – this recital was a great illustration of the importance of hearing these majestic, passionate works played live.
We hope that Giovanni Lonati will return to the West Country for more recitals in the future.
FC