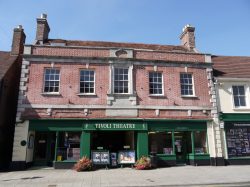 WIMBORNE Rep 2019 rea­ch­ed its dramatic conclusion with performances of Agatha Christie and Frank Vosper's Love from a Stranger at the Tivoli Theatre.
The season began with a comedy (A Bunch of Ama­teurs),  continued with a staging of Rising Damp, and ended with a tense thriller with a real sting in the tail. Vosper was an actor known for playing urbane villains and he adapted Christie's short story Philomel Cottage as Love from a Stranger.
It's the story of Cecily Harrington, a bright young woman stifled by her job and less than delirious about her impending marriage to a childhood sweetheart, the stuffy army officer Nigel. She has just won a substantial sum of money, and it has expanded her horizons.
Waiting to let the flat she has shared with friend and co-winner Mavis, while Mavis goes travelling and she goes to the alter, Cecily opens the door to a dashing American, Bruce Lovell. And he sweeps her off her feet.
The clues are all there, but carefully hidden among the florid herrings. And the tension rises as the denouement approaches.
In Tracy Jane Murrey's clever version for Dramatic Produc­tions, Celia Muir and Mark Freestone play Cecily and Bruce, she ranging from boredom through bliss to dawning horror, he with charisma and unravelling obsession.  Rebecca Legrand is Mavis and the scatty maid Ethel  in a wonderfully conspiratorial doubling!, and Julia Savill is the hilariously recognisable Aunt Loo Loo.  The versatile Alan Colglough is the pompous Nigel and an unrecognisable Dr Gribble, with Russell Biles as Hodgson the gardener.
Christie's 1934 short story, published in the Witness for the Prosecution collection, was early evidence of her devious depths and psychological knowledge. It was her most popular pre-war short story
This was a terrifically tense way to end the excellent season, leaving its audience just waiting for Wimborne Rep 2020.
GP-W