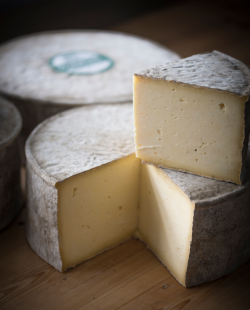 THE Trethowan brothers, who make award-winning farmhouse Cheddar and Caerphilly at Hewish in north Somerset, have won the Best British Cheese award at this year's World Cheese Awards, held at Oviedo in Spain, during the Asturias Paraíso Natural International Cheese Festival.
Overall, the Trethowans' Gorwydd Caerphilly took seventh place. The World Champion was a soft goats' cheese made by Andalusian cheesemaker, Quesos y Besos, selected in the close run final,  from runner-up Fromagerie Berthaut's Epoisses Berthaut Perrière, and third placed Tomme Chèvre Grise au Bleu, produced by Van der Heiden Kaas in the Netherlands.
The Trethowans'Pitchfork Vintage Cheddar took joint 14th place. This follows both cheeses being named in the Top 16 at the last edition of the competition two years ago, when Pitchfork Cheddar was named Best British Cheese just two years after production began at the dairy, based five miles from the village of Cheddar.
Todd and Maugan Trethowan were delighted: "This is our 25th year of making Gorwydd Caerphilly. It has been our life's work and we have put our heart and soul into it. It's great that the complexities of these more subtle cheeses are rewarded. We think that our organic, unpasteurised milk promotes a fuller and more rounded depth of flavour. To have both our cheeses in the final 16, two years in a row, is something we and our fantastic team are extremely proud of."
Other UK cheese honours went to Arran Brie from The Island Cheese Company (Best Scottish Cheese), and Trefaldwyn Blue from Trefaldwyn Cheese (Best Welsh). British cheesemakers won eight Super Gold, 15 Gold, 24 Silver and 41 Bronze awards.
John Farrand, managing director of the Dorset-based Guild of Fine Food, organisers of the World Cheese Awards, said: "As the World Cheese Awards was founded over three decades ago to showcase the work of small artisan cheesemakers, it gives me immense pleasure to see a tiny family-run cheesemaking business taking top honours once again. Quesos y Besos' Olavidia clearly had everything; delivering an exceptional appearance, aroma, texture and flavour, along with bags of originality."
The 33rd annual World Cheese Awards was bigger and more international than ever, with more than 4,000 entries for the first time, from 45 different countries, including recent additions such as India, Japan and Colombia, as well as established cheesemaking nations such as France, Italy, Spain, Switzerland and the United Kingdom.
All entries were judged in a single day, as 250 experts from 38 countries considered their appearance, texture, aroma and flavour. Bronze, Silver, Gold and Super Gold accolades were awarded during the morning session, before the Super Golds were reassessed to find this year's Top 16. The international super jury, from the global cheese community, debated the best cheeses in front of a live audience, before crowning this year's World Champion Cheese.