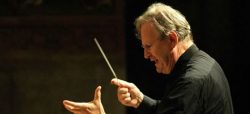 WHAT more perfect way to celebrate a return to live performance than a concert in the beautiful gardens of Springhead at Fontmell Magna – and that's how conductor and Dorset farmer John Eliot Gardiner reconnected his singers and musicians with their audience.
Testing Springhead's Covid arrangements, an invited audience was led to separated blocks of seating at the amphitheatre by the lake to hear soloists Lucy Crowe and Julia Doyle and members of Gardiner's ensembles – the English Baroque Soloists, Orchestre Revo­lutionaire et Romantique and Monteverdi Choir – perform music by Handel, Monteverdi, Brahms, Debussy and Purcell. 
At the end of a windy day, with spattering rain threatening, it could hardly have been more English or more delightful. Aubrac cattle were safely grazing on the adjoining hills, ducks uptails all in the pond, and at one moment a squirrel on the lawns behind up on its hind legs – apparently on the shoulder of tenor Gareth Treseder.
It was not the sort of Gardiner concert to which his fans and supporters are accustomed, but instead provided an intimate insight into the place and the atmosphere that inspired the young musician. He dedicated the evening to Marabel Gardiner, the woman whose wide-ranging interests and skills led her son to his own unique dramatic and musical creations. 
The concert included excerpts from Purcell's Dido and Aeneas, which Marabel had directed at Springhead when John Eliot was a boy.  It gave Lucy Crowe her first chance to sing the role, culminating in the famous Lament that brought the evening to a close with the poignant disappearance of red roses through the surface of the lake.
After five months of deprivation, the listeners were as eager to enjoy live music as the performers were to demonstrate their skills to a live audience. The conductor revelled in the opportunity to introduce his programme in the very place where his mycorrhizals first and indelibly connected his love for nature, drama and music.
The musicians were violinists Kati Debretzeni and Matthew Truscott, violist Oliver Watson, cellist Catherine Rimer and double bassist Valerie Botwright, with horn players Anneke Scott and Joseph Walters, Kinga Gáborjáni, (viola da gamba) and Elizabeth Kenny, (theorbo). Salisbury based composer and conductor Howard Moody rejoined his EBS colleagues at the harpsichord, and Dutch harpist Gwyneth Wentink was the soloist in two little-known works by Brahms (unusually scored for harp and two horns) and Debussy, an Impressionist work that seemed to mirror the emotion and location of the concert.
Opening with extracts from Handel's Acis and Galatea, the programme continued with two unfamiliar Monteverdi madrigals. The second, Lamento della Ninfa, should be recorded and released as a triumphantly hopeful emerging hymn after lockdown. What does it matter is life has been hell, we can still sing – as Monteverdi choristers soprano Sam Cobb, mezzo-sopranos Martha McLorinan and Kate Symonds-Joy, tenors Peter Davoren and Gareth Treseder and bass Alex Ash­worth richly and beautifully dem­onstrated. 
Let's hope this wonderful evening paves the way for many more with John Eliot Gardiner and his musicians and singers.   GP-W