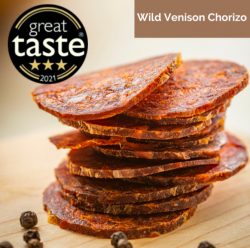 WEST Dorset artisan charcuterie producers Capreolus have once again received a list of two and three stars in this year's Great Taste Awards, including the prestigious three stars for Wild Venison Chorizo and Dorset Soft Salami.
David and Karen Richards, who have been creating delicious artisan charcuterie since 2009, also received three two-star awards for their Dorset Truffled Salami, Venison and Green Peppercorn Salami and Pannage Ham, made from the meat of pigs that have foraged in the New Forest, under the thousand-year old commoners right of pannage.
The Great Taste judges described the Wild Venison Chorizo as "outstanding – quite fabulous. Everything about it is rounded, balanced and knit together … Seasoning and spice are perfection and the smokiness from the Pimenton is a hint and no more."
The Dorset Soft Salami, with the consistency of a pâte,́ has been inspired by Ventricina from the Abruzzo region of Italy. It is made with free-range pork from Dorset and seasoned with a complex blend of herbs and a little orange zest.
In the judge's words. it is "absolutely fascinating! …  the flavours are all there as promised and as you taste more flavours develop on the tongue."
David Richards, the master charcutier, says: "Since we first embarked on our journey in 2009 the English charcuterie industry has grown. Putting our artisan produce forward for a panel of experts to taste and review is always nail-biting so for us to be awarded Great Taste Stars this year across five of our products shows that we are still at the top of our game.
"The last 18 months have been a rocky road in the food industry but we've managed to come through the storm stronger as a team with exciting times ahead. We are absolutely thrilled."
Pictured: Wild Venison Chorizo