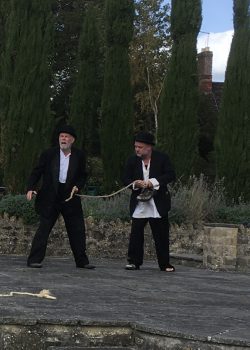 SAMUEL Beckett, according to the Amateur Players of Sherborne programme, wrote "Art has nothing to do with clarity, does not dabble in the clear and does not make clear," … and there's me thinking that the present government doesn't understand The Arts.
Sherborne's open air production of Beckett's masterpiece was the result of a happenstance comment in a local supermarket, prompting the company to "revive" the postponed spring show in the council-owned gardens. And it was a triumph.
Godot is one of the most famous, and famously difficult, plays of the 20th century, a puzzling, peculiar four-hander open to as many interpretations as a rule from Downing Street. Two bowler-hatted tramps, Vladimir and Estragon, turn up at the same place each day to wait for Godot. Of course he never turns up so we are left as uncertain as to his identity as are Dede and Gogo.
The visitors who DO make an entrance are the bombastic and deeply insecure landowner Pozzo and his slave, Lucky.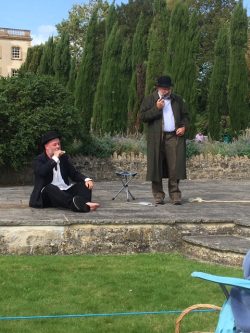 The inter-reaction of these four men, whose conversation veers from the metaphysical to the olfactorily physical, from discussions of time to discussions of raw vegetables, from braggadocio to helpless loneliness, really does hold up a mirror to our lives as we hasten past each other, masked and frightened. In these days of international insecurity, questions of the meaning of life loom large.
Director Jerome Swan has introduced some inspired moments to Beckett's play, not just complying with but emphasising the rules of engagement in September 2020. Two-metre long ropes, constantly sprayed with sanitiser, separate and join the protagonists, who greet with welcome elbow bumps.
Waiting for Godot is a difficult play for professional actors and directors, as well as for audiences. All praise to APS for rising magnificently to the challenge not only of the work but of these difficult times, when the vast majority of amateur companies across the country have battened down the hatches for the foreseeable future. It was a risk that paid off both in artistic and audience terms.  Both performances (on successive Saturday afternoons) were sold out, the socially-distanced watchers delighted not only by the beautiful setting with Sherborne House as its backdrop, but by the wit, skill and ingenuity of the performers.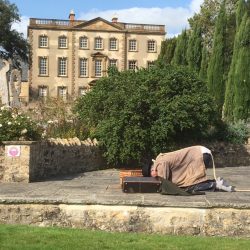 Carl Davies and Martin Williams capture the interdependency of Estragon (GoGo) and Vladimir (Dede) with a deft poignancy and familiar wit. Adrian Harding's Pozzo is Mr Toad with a hard arrogant edge, and Graham Smith's Lucky confounds expectations, especially here with Jerome Swan's superimposed dumbshow from GoGo and Dede. 
Seth Collis completes the cast as the unfortunate child sent daily to report the non-attendance of Godot.
It's a clever and illuminating production of this extraordinary play, brilliantly performed  and as accessible as it can be for an audience hungry for live performances.  
Congratulations to all at APS for making the experience so enjoyable for the audience in difficult times, and thanks to all involved. I am so glad to have seen it.
GP-W