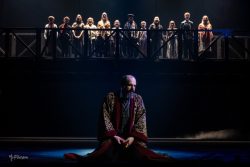 SINCE 1956, when local musical society BLOC took the mad gamble to take their production of The Gypsy Baron into the 2,000 seater Bristol Hippodrome, they have seen many changes both in the ownership of that flagship theatre and in theatrical musical tastes. Those days, when the management was keen to create and preserve a strong bond between local musical enthusiasts, and appreciative that, when fewer big musicals toured, BLOC took up the challenge and filled the theatre for two weeks each year, are long gone, and now there is a far harder commercial relationship between the management and local company.
With producers almost lining up to convert popular films into musicals, there is no shortage of big scale tours. This years BLOC production of the ever popular Christmas Carol, finds itself sandwiched in between Pretty Woman – the musical and a star-studded production of Annie. Although both of those have a great deal to offer and are by no means presented on the cheap, neither will be able to match the sheer exuberance of spirit, commitment and actual numbers on stage – with a youth group of 14 there are nearly 70 members of cast involved in the production.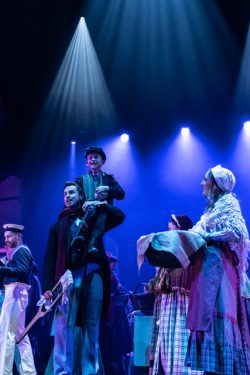 All well and good to have those sort of numbers is the cry, but what about the quality … and the answer is "very high". Since director Alex Turasiewicz, choreographer Jaquie Bell and MD Brendan Casey gathered the company together way back in May, a great many intensive rehearsal hours have flowed under the bridge before this highly-polished theatrical presentation found its way onto the Hippodrome stage.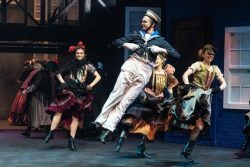 It's been a long time since I saw an audience so wrapped up in a full company number, to the extent that they did not want it to finish and continually applauded in the hopes of seeing an encore. Even those on stage appeared to be a little taken aback by the intensity of the audience response. Although an encore was not forthcoming, the audience did not have long to wait, just the start of Act 2 before two full company numbers again had them all but on their feet in appreciation. With the back-up of a 16 piece orchestra firmly under the direction of Brendan Casey, and 11, expertly lit, scene changes producing striking visual effects, there was nothing small or second rate about this production.
It really was one worthy of gracing this fine big old theatre.
Simon Vardakis had the responsibility of bringing Scrooge, one of Charles Dickens' most readily recognised characters, alive, and, going from irascible miser to warm hearted universal uncle, he created the most believable of personalities. With 14 other name roles to fill, including the loveable Tiny Tim which Tommy Marks and Otto Elkins will play with grace and charm on alternate performances, there was plenty of room for a little dead weight. If they were there, they were well hidden behind Michael and Emma Griffiths as Bob and Mrs Cratchit, Will Pope's nephew Fred, Kieren Logan-Gallen, Dani Copperstone, Tom Carron, and Jessica Bell, all ideally costumed as the ghosts of Jacob Marley, and Christmases Past, Present and Future, David Evans and Louise Couzens as Mr and Mrs Fezziwig, Jaryd Evans and Daniel Bartlett playing the younger Scrooge and Marley and Amber Mears-Brown as the lovely girl Scrooge rejects in his determination to make money.
This was a production that had strength and depth, showing that despite all the problems BLOC faces each year to mount a production at the Hippodrome, the company has the imagination, enthusiasm, determination and theatrical skills to entertain their audiences, making them much more than just worthy of an annual spot on that illustrious theatre's programme.
GRP