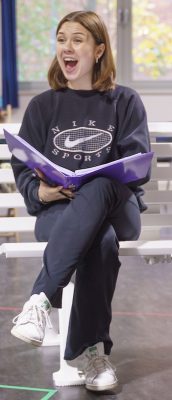 OLIVIA Hewitt-Jones was born to play pantomime. Her father Brian was a successful pantomime producer and her mother, actress Amanda Bairstow, starred in them. Now Olivia makes her professional debut at Salisbury Playhouse as the heroine Alice Fitzwarren in this year's panto, Dick Whittington, running from 25th November to 7th January.
"I literally grew up on panto," says Olivia, who trained at ArtsEd performing arts school, and has been teaching musical theatre. "I love pantomime, It is so magical – there is so much energy and effort that goes into making it special for the community."
She has been really enjoying the rehearsals: "This Alice is very career-driven. She really wants to become an actress and she is determined to make her dream come true." Alice apparently even has a big fight scene. It's going to be a very different panto heroine from the usual romantic lead!
Will Carey, who is playing Dick Whittington, first went to a pantomime when he was six or seven, at Darlington's imposing historic Hippodrome. "It was Goldilocks," he remembers. "I was in awe! I've still got the programme. And I knew that I wanted to do that one day." This is why pantomime is important, he says – it is so often a child's first experience of live theatre.
He is hugely impressed with the Salisbury theatre's close relationship with the community: "The Playhouse has such great outreach for kids, for families and for older people." And he described meeting a market trader while taking part in a promotional video for the pantomime. He had expected the trader to be unimpressed, but instead the man had told Will that his friends thought it was cool that he was going to be in the film, and that he went to the pantomime every Christmas Eve.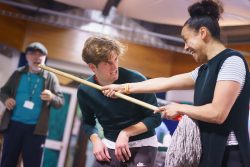 Natalie Winsor, playing Fairy Bowbells, is almost a pantomime veteran these days – it is about 20 years since she made her debut, as Tiger Lily, in Peter Pan at Bristol Hippodrome, and this is her tenth panto. Last year she was Fairy Bowbells in another Dick Whittington, at Nottingham Playhouse. She comes from a performing family, including her mother, a singer, and an uncle who is a professional drummer. She has a wide repertoire, including the role of Francisca, one of the royal party who are shipwrecked onto Prospero's island in The Tempest. The production, at Bath Theatre Royal's Ustinov Studio, was directed by the "incredible" Deborah Warner.
If you spend a lot of time at the theatre – and you read your programme – you will know that many shows have two or more "swings." These are the multi-talented performers who are part of the ensemble, but can be called in at sometimes very short notice if a principal cannot go on. The shortest notice Dan Timoney has ever had was half an hour! Last year he was a swing in the international touring production of Cats, covering seven parts as well as all the energetic chorus song and dance routines.
As slender and lithe as you would expect from a dancer, Dan will be seen in Dick Whittington as a villager, a rat and a shark, but could be called on to play any of the male parts, from Dick to King Rat! He trained at Fourth Monkey, a school specialising in physical theatre and Shakespeare – great disciplines for a performer who has to be a quick learner and a flexible performer.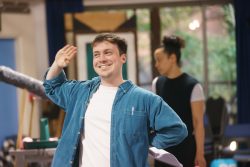 This pantomime has two Wills, so Will number two (Jennings) playing King Percy Rat is called Billy to distinguish him from the villain's nemesis. He is a graduate of the Guildford School of Acting, and made his panto debut at Milton Keynes in Sleeping Beauty – well, it would have been his debut, but a Covid lockdown was announced on the opening night, "so the show was cancelled before it opened," he says.
Will/Billy took a degree in geology at University College London before moving on to acting. He got the stage bug in amateur dramatics at university: "Geology became an annoying distraction from the acting, and drama school sounded fun."
Like Olivia, panto was in his blood – his father regularly played the Dame in the pantomime in their village hall and in his teens Will also took part. His professional career has included roles in the record-breaking Agatha Christie mystery, The Mousetrap, in the West End. Now he is looking forward to playing King Rat: "Villains are the best parts," he says "and this is a great part. Some villains, like Abanazar, are older and more stately but King Rat can be manic."
You have been warned!
Dress rehearsal photographs by Ash Mills.