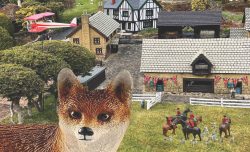 YOU know about model villages – there is a model town in Wimborne and a world-famous model village in Bourton-on-the-Water – those miniature recreations of an idyllic rural settlement with cricket pitch, thatched cottages, roses round the door and a smart-as-paint railway station? Welcome to Model Village, the 50th anniversary production by New Perspectives, coming to three Dorset villages from 17th to 19th November.
The model village in this new satirical play from the East Midlands-based company, is an acre of 1930s England where cricket is always played on the green and the miniature railway runs on time. But the waist-high houses that have brought joy and wonder to generations of kids are in decline and visitor numbers are low.
Model-makers Brian and Holly are joined by Cutler, a radical urban artist, to help save the attraction and put the village back on the tourist map. However, not all is quite as it seems as the miniature villagers rebel and an emergency council meeting brings model-makers and residents eye-to-eye at grassroots level. If both worlds are to survive, they must learn to collaborate across divides. But first, they must round up the wolves…
It's a timely theme – keeping traditional attractions relevant to a 21st century digital-obsessed audience, balancing the need for tourism and traditional rural life – a reviewer at the Edinburgh Fringe said: "New Perspectives has taken on an exciting challenge that proves rural touring companies can produce provocative work of national and international significance."
New Perspectives have built their reputation over half a century as a theatre company with a strong rural core and this new show underlines that legacy.
Model Village creator Anita Sullivan is a stage and radio playwright whose 2022 BBC radio drama, End of Transmission, won the Tinniswood Award for writing, the BBC Audio Drama for Best Single Drama and was a finalist for the Writers Guild Award. Other recent work includes Silos and Heart of Darkness for BBC Radio 4.
Anita says: "I grew up in a rural community and first encountered theatre in the village hall. I'm delighted to be turning that full circle with Model Village. It's written with heart and playfulness. What is a model village today? What do the little people want? I hope you'll sing along, vote for the village you want to see."
Vote for the model village YOU want in this playful and subversive new satire as New Perspectives tour to Child Okeford village hll on Friday 17th November, Lytchett Matravers on Saturday 18th, both at 7.30pm, and Litton Cheney Community Hall at the earlier time of 3.30 on Sunday 19th.