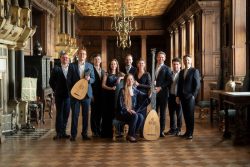 TRAVEL 400 years back in time on Saturday 14th October for a musical journey that will take the audience from England's Chapel Royal to the cutting edge of Venetian musical innovation.
The Gramophone-nominated Ensemble Pro Victoria will be giving a concert at St Mary's Church, Dorchester, at 7pm. Led by Humphrey Thompson and Toby Ward (of Tenebrae), this evening of choral gems will centre around great works by William Byrd and Claudio Monteverdi, sung by a young and hugely talented ensemble.
This is a special year for fans of the English composer William Byrd, who did 400 years ago, on 4th July 1623. A leading English organist and composer of the Shakespearean age, Byrd is best known for his development of the English madrigal.
This will be a celebration of beautiful English choral music, madrigals and joyous Italian dances, including a rare chance for local audiences to hear the sound of the almost six-foot long theorbo or bass lute in action!