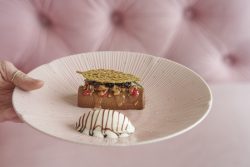 THE pandemic had a massive (and mainly adverse) impact on the hospitality and catering industry, but post-Covid many have predicted a "new dawn for fine dining" and the recent publication of the 31st edition of the Trencherman's Guide, the South West's dining guide, proves it, says Michael Caines, who chairs the Trencherman's committee.
"In the South West and across the rest of the UK, the dining scene is evolving; there's no question about it," says Michael, a leading light on the South West food scene who owns Michelin-starred Lympstone Manor in Devon, The Cove at Maenporth in Cornwall and Mickeys Beach in Exmouth. "Browse the pages of the Trencherman's Guide edition 31 and you'll find, more than ever before, the diverse ways that chefs and restaurateurs are extending their core business to incorporate a variety of dining experiences that don't compromise on quality.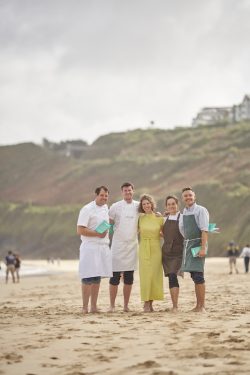 "From wood-fired pizzas served on hotel terraces to family-friendly beach bars and fish shacks in pub gardens, authentic South West dining experiences are reaching an even greater audience, which is fantastic for everyone – including the region's food and drink producers. The ceremony of multi-course meals and starched linen still holds huge appeal to those chasing a real sense of occasion – but it's time to expand our perspective on the definition of the most exquisite dining experiences."
The annually published epicurean bible for the region launched its latest edition at Adam Handling's Ugly Butterfly in Carbis Bay with a champagne reception and four-course lunch. Readers will recognise Adam Handling as the winner of this year's Great British Menu. The guide, which covers the South West region from Land's End across Dorset and up to the Cotswolds, features 106 restaurants that have passed the strict Trencherman's entry criteria, ranging from formal restaurants to dining pubs, bistros and bottle shops, and including 25 new members.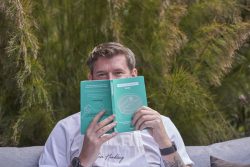 New editor Abi Manning describes it as "a true celebration of the best places to eat in the South West – in their many guises. The concept of fine dining isn't dead, but there's certainly a movement towards a more casual restaurant experience, as shown in the guide. This is the direction the industry is now taking – as a result of food and energy prices putting pressure on restaurants, as well as the cost-of-living crisis for consumers. However, quality is still key and we believe a casual meal using hyper-local ingredients cooked extremely well is equally as valid as a multi-course tasting menu."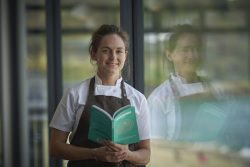 The celebration lunch was created by four of the featured chefs: Ugly Butterfly chef-patron Adam Handling, Guy Owen of The St Enodoc Hotel in Cornwall, Harriet Mansell at Lyme Regis (and Nicholas Balfe of HOLM in South Petherton. Each chef featured regional ingredients including Somerset lamb, Cornish duck, Dorset dandelion root and Cornish seaberry.
Pictured: Adam Sandling; on the beach, from left, chefs Guy Owen and Adam Sandling, editor Abi Manning, chefs Harriet Mansell and Nicholas Balfe; chef Harriet Mansell; Harriet Mansell's Dandelion root, apple marigold and autumn fruit dessert. Photographs by Guy Harrop