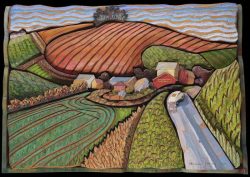 WHEN artist Alexander Hollweg and his family moved from London to Exmoor 40 years ago, he said they "sold a house and bought a way of life". A new exhibition at the Museum of Somerset in Taunton celebrates his Journey in Art, with paintings and sculptures from throughout the six decades of his career. The exhibition runs from 14th November to 9th March 2024.
Born in Kensington, Alexander Hollweg (1936–2020) was one of two sons of British novelist and author Barbara Wadsworth (daughter of the modernist painter Edward Wadsworth and violinist Fanny Eveleigh) and the German Olympic ice-hockey player Joachim Albrecht von Bethmann-Hollweg, who came to England from Germany in 1934. His family name and that of his wife and children remains officially von Bethmann-Hollweg, and some of his work is signed thus. (He was distantly related to Theobald von Bethmann Hollweg who was, until 1917, Chancellor of Germany under Kaiser Wilhelm II.
After studying languages at New College, Oxford, he arrived at Camberwell School of Art in 1960, and there began his long association with arts schools, first as a student and later as a teacher.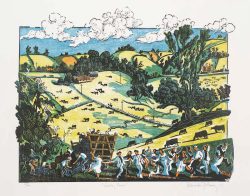 Alexander lived for many years on the Nettlecombe estate in West Somerset, home to a creative community of artists, musicians and writers. It inspired his most famous work, Country Dance, showing a joyful scene of people rediscovering nature. A collection of discarded Edwardian toys, discovered in the stables at Nettlecombe, were an inspiration for the first major exhibition of his work at the Whitechapel Gallery in 1971.
The new exhibition will be the largest ever show of his art. The museum has been working with the Hollweg family and The Court Gallery for more than two years to uncover artworks and stories about the artist.
On show are watercolours of pastoral and industrial scenes inspired by his life in Somerset and London, including the hamlet of Yarde, Willett Tower and Watchet. There are portraits, still life paintings, prints and archival material. Visitors will be able to see some of the 40 painted wooden sculptures that were exhibited at the Whitechapel Gallery, in 1971. It was this show which led to his work being exhibited internationally, including in Italy and New York. One of his largest and most ambitious commissions, a mural for the Charlotte Street Hotel in London, was completed in 2000.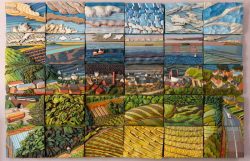 Sarah Cox, the Museum of Somerset exhibition curator, says: "Hollweg worked for many years from his studio at Nettlecombe creating art that translates the ordinary and everyday into surprising, often humourous, reflections on modern life. In this quiet corner of West Somerset he and his wife, Geraldine, forged a life centred around family, community, music and art. As well as painting and sculpting he loved to play music with his band Dr Jazz, and was a member of the Watchet brass band."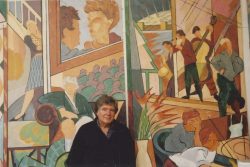 Alexander Hollweg married Geraldine James, a fellow Oxford student, in 1962. At first they lived in London but in 1973 their friendship with John and Pat Wolseley of Nettlecombe drew them to West Somerset where they became key figures in the artistic community that was developing there. They had two children, Lucas, who is a well-known chef and food writer, who lives near Bruton, and Rececca, a singer and songwriter.
The Museum of Somerset is also working with East Quay, at Watchet, which is hosting an associated exhibition of new and existing work by Sam Francis. Using Hollweg's Country Dance as a starting point, Francis is taking a deeper look at the creative culture and mythologies of the Nettlecombe estate and surrounding area. In addition, she will display her film, In Here Dreaming, a work commissioned by Bristol's Arnolfini to respond to a performance piece, Somerset – A Year in the Life of a Field, by fellow Nettlecombe and Somerset artist Lizzie Cox. The exhibition, People Came For Tea and Stayed Forever, will be open from 20th January to 12th May.
Admission to the Museum and exhibition is free, with donations welcome. Visit museumofsomerset.org.uk for more information.
Pictured: Alexander Hollweg in 2000, Country Dance, a collage of Somerset scenes and a Somerset landscape.