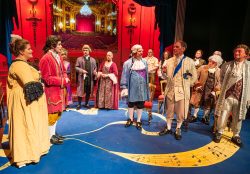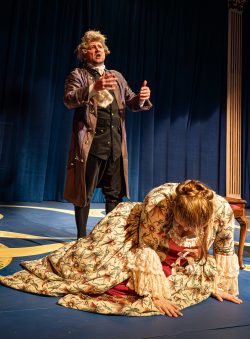 PETER Shaffer's 1979 play Amadeus opens in Vienna 200 years ago, as court composer Antonio Salieri is committed to an asylum, where his ravings about his murder of Wolfgang Amadeus Mozart, decades earlier, are overheard by his incredulous attendants. It continues in flashback to episodes in the period from 1781 to 1791.
It has been revived on stage many times in the intervening 45 years, but most people probably remember most clearly the multi-award winning 1984 film, with Tom Hulce's idiotic laugh and Emperor Joseph II's analysis of Mozart's music as having "too many notes" – and the atmospheric Prague settings. It was watching that film that turned Swan Theatre director William O'Neill from a crass young man to a lifelong and committed theatre afficionado.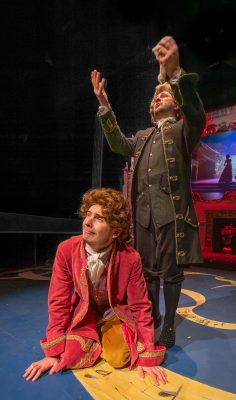 It's a rare treat to have this astonishing play performed at a theatre near you, and a triumph for O'Neill and his exceptional cast and crew, who are staging this play 35 years after the Swan's first production. It's a massive undertaking, requiring versatile sets, authentic costumes, perfectly timed musical cues and acting of the highest calibre – and that's what it gets here.
Peter Carter-Brown, recently moved to Yeovil from Bedfordshire and Hertfordshire, makes his Swan debut as Salieri (looking, in his wig, strangely like David Cameron on the day the former PM became Foreign Secretary). It's a huge role that requires intelligence and subtlety, telling the story of a man driven by a passion for music who must finally accept his own mediocrity. J Murray Abraham won the best actor award for his film portrayal of Salieri, but the sheer wattage of his performance worked against the essence of his character. Peter Carter-Brown manages to walk the tightrope, brilliantly capturing the numb realisation of failure that haunts Salieri's every waking moment.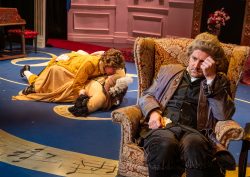 We hardly remember Salieri (whose own works were only recorded after the success of Milos Forman's film) but we all have an idea of Mozart. Shaffer took great liberties with accepted "history" to create a monstrous man-child, obsessed with bodily functions, uncontrollably venal and totally disrespectful of convention – but blessed with effortless genius in every musical endeavour. Ethan Taylor returns to the local stage after his honours degree in acting to personify Wolfie, adding a disjointed physicality to the childishly difficult young prodigy, which increases the pathos of his ending.
The large cast includes Carys Clayton as an unusually unsophisticated but convincing Constanze, a welcome return to the Swan for Sean Driver as the emperor's right hand man, Judith Payne (who was Constanze in the company's 1989 production) and Sally Matthews as the Venticelli – Salieri's "ears" in the court, and Tyrone Trower as the tone-deaf but music loving Joseph II.
The play has lost none of its power, and this would be an outstanding production from a professional company, let alone an amateur group. Once again the Swan has proved that Yeovil and the surrounding area attracts a unique depth and breadth of performing arts talent, both on and off stage. Long may that continue.
Tickets are still available for most performances, until Saturday 18th November nightly at 7.30.
GP-W