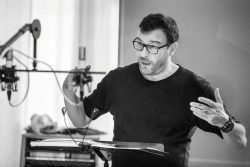 ANDREAS Scholl, one of the world's greatest counter-tenors, is coming to St Mary's Church, Dorchester, on Monday 5th February, for one of only two UK concerts next year. He will be accompanied by his wife, Israeli harpsichordist, pianist, musicologist and composer Tamar Halperin.
Their previous recital in 2020 was a memorable concert and, predictably, a sell-out. Tickets (likely to go like hot cakes!) can be booked via the website, www.dorchesterarts.org.uk
The repertoire for this 2024 visit includes Purcell's Music for a While, Dowland's Flow My tears, Handel arias from Saul, Alcina and Giulio Cesare and works by JS Bach. Tamar Halperin will also play some solo Bach piano pieces and her own compositions.inspired by Bach.