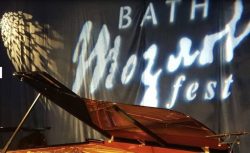 IN the days before genetic modification and new methods of long-term storage robbed us of the pleasure of enjoying fruit and vegetables at a specific time of year, as they came into season, you looked forward with eager anticipation to the arrival of the first English tomatoes, fresh peas, kidney and broads beans.
Fortunately those rules do not apply to music festival, and so it was with enormous pleasure that local music lovers welcomed their annual pre-Christmas teat, the Bath Mozart fest. For the last 28 of the Fest's 33-year history, Amelia Freedman has been has been the artistic director, and once again this year she came up with a splendid variety of concerts, 15 events over ten-day period, featuring music from the 15th to 20th century.
Those dates tell you that, although Mozart's works are heavily featured, he was not the only composer whose works were represented. The world-renowned Early Music singers Stile Antico delighted the Assembly Room with among others works by, Guerau, de Morales, Byrd, Cornysh, Aleotti, L'Hheritier and des Prez.
Regular visitors the Nash Ensemble, who could well be described as Amelia Freedman's personal 'band', she being one of their co-founders in 1964, moved forward three century's to delight their audience with the music of Dvorak, Brahms, and Schubert. Among their number was cellist Adrian Brendel, who earlier in the festival had formed a very happy partnership with pianist Imogen Cooper to play Liszt, Schumann, Debussy and Beethoven.
If you are wondering if Mozart had disappeared, the answer was a decided NO, with many of his compositions to be found among the programmes provided by top quality soloists, duos, trios, quartets and quintets, mixing a wide range of vocal and instrumental partnerships.
By its very nature, and the fact that all the concerts were staged in the beautifully atmospheric Assembly Rooms, the emphasis is on chamber music, but there is usually a big, juicy musical lollipop to end proceedings. This year as the Fest moved from the intimate setting of the 18th century Assembly Rooms to the 1930s cinematic grandeur of the Forum. It was the full (including celeste, glockenspiel and harp) Halle Orchestra who brought this year's excellent series of concerts to an end. Under Sir Mark Elder's unobtrusive, but always firm, hand, the orchestra played Rimsky-Korsakov's The Tale of the Tsar Sultan in the grand manner that fitted the Forum ideally.
Ravel's delightful Mother Goose was would shortly be outshone by Brahms' wonderful Symphony No 4 which closed this year's festival. With the orchestra in full flight there were some telling contributions from brass and woodwind, but it was the strings who dominated proceedings full of controlled power and elegant style.
We have the Bach Fest to look forward to in February of next year, and later, no doubt another mouth-watering programme when the Bath Mozart Fest returns for our musical pre-2024 Christmas treat.
GRP